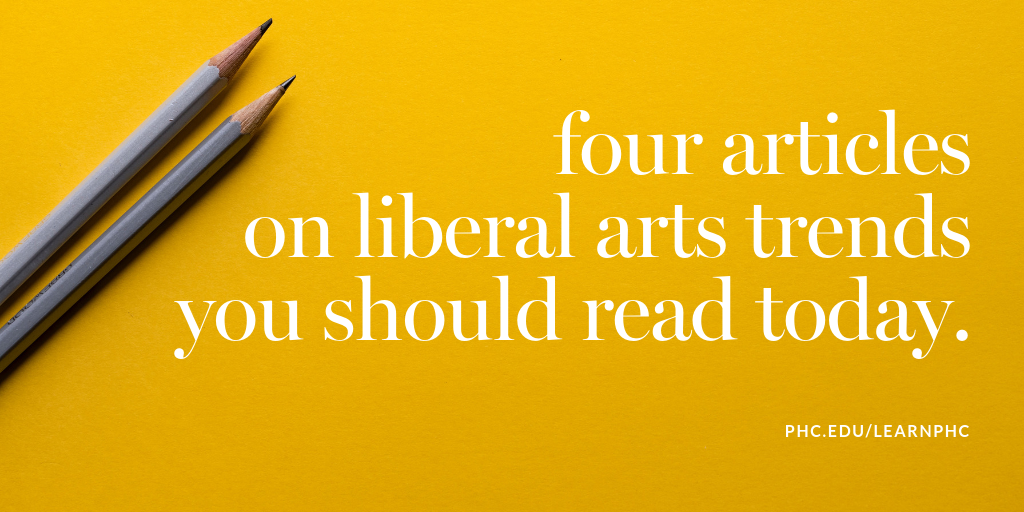 So what's going on with liberal arts in higher education today? Here's a roundup of four articles on the latest trends, including details on why a quality (classical) liberal arts education is more important than ever. Enjoy!
By Frank Bruni
"But colleges needn't abandon majors in general or supposedly arcane majors in particular in order to propel graduates into the work force. They could do better at encouraging and arranging something that they already promote and that savvy students already embrace, which is the considered, concerted use of research projects, extracurricular activities, part-time employment, internships and networking to set up first jobs. Colleges needn't abandon majors in order to give students breadth and nimbleness. That's what general-education requirements are for. So why don't more colleges expand or toughen those? That would additionally help to create shared experiences and common points of reference in a dangerously fractured society." Read the full article here.
By JM Olejarz
"If we want to prepare students to solve large-scale human problems, Hartley argues, we must push them to widen, not narrow, their education and interests. He ticks off a long list of successful tech leaders who hold degrees in the humanities. To mention just a few CEOs: Stewart Butterfield, Slack, philosophy; Jack Ma, Alibaba, English; Susan Wojcicki, YouTube, history and literature; Brian Chesky, Airbnb, fine arts. Of course, we need technical experts, Hartley says, but we also need people who grasp the whys and hows of human behavior.
What matters now is not the skills you have but how you think. Can you ask the right questions? Do you know what problem you're trying to solve in the first place? Hartley argues for a true "liberal arts" education—one that includes both hard sciences and "softer" subjects. A well-rounded learning experience, he says, opens people up to new opportunities and helps them develop products that respond to real human needs." Read the full article here.
By Valerie Strauss
"Google decided to test its hiring hypothesis by crunching every bit and byte of hiring, firing, and promotion data accumulated since the company's incorporation in 1998. Project Oxygen shocked everyone by concluding that, among the eight most important qualities of Google's top employees, STEM expertise comes in dead last. The seven top characteristics of success at Google are all soft skills: being a good coach; communicating and listening well; possessing insights into others (including others different values and points of view); having empathy toward and being supportive of one's colleagues; being a good critical thinker and problem solver; and being able to make connections across complex ideas." Read the full article here.
By Sydney Johnson
"Bachelors of arts degrees in the humanities decreased from 36 percent in 1970 to 23 percent in 2016, according to data from the Integrated Postsecondary Education Data System. Over the same time period, career-oriented majors in science, technology, engineering and mathematics crept from 64 to 77 percent.
According to the paper's researchers, the number of workers in STEM fields with a liberal arts background is simultaneously increasing. "We are clearly seeing an uptick in the data in terms of percent growth increase in liberal arts backgrounds into technical areas," says Rob Sentz, chief innovation officer at Emsi and one of the authors of the report." Read the rest of the article here.
You may also like "College, Then and Now"