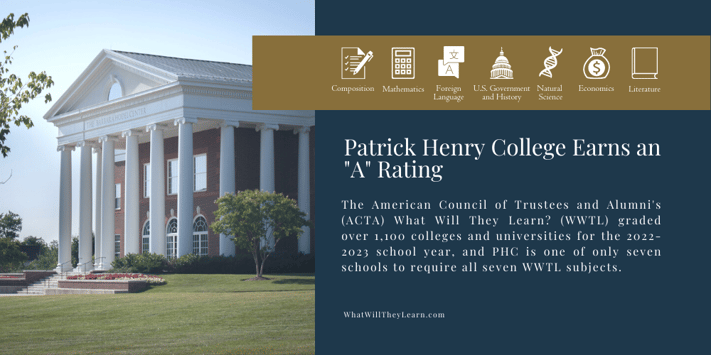 PHC ranks as the top Protestant college in the nation, recently earning a prestigious ACTA "A" rating and a 100% grade from the American Council of Trustees and Alumni's (ACTA) "What Will They Learn?" (WWTL) project. WWTL grades the core curricula at colleges and universities on an "A" through "F" scale based on how many of the seven original liberal arts disciplines they require students to study (natural science, composition, economics, foreign language, mathematics, U.S. government or history, and literature). Out of over 1,100 colleges and universities reviewed this year, only 24 institutions require at least six of the seven subjects necessary to earn an "A" rating. Earning 100%, Patrick Henry College requires all seven, becoming one of only seven schools to meet all of ACTA's requirements.
The Patrick Henry difference builds a foundation that our graduates can rely on for the rest of life. The bedrock of PHC's academic program is its commitment to the classical liberal arts. PHC has an extensive Classical Core curriculum of 63 credits founded on the great texts and ideas that have stood the test of time, starting with the Holy Scriptures.
Regardless of major, every student must complete the entire core. This enables faculty to assume prior student knowledge, allowing advanced mastery in upper-level courses. PHC's philosophy of education is not just a sequence of courses, but a conceptual framework and methodology that teaches students how to think, not what to think. ACTA summarizes, "By gaining mastery of the foundational liberal arts, students develop the skills to think critically and have the opportunity to exercise their 'whole range of talents.'"
Visit the PHC profile at ACTA here.