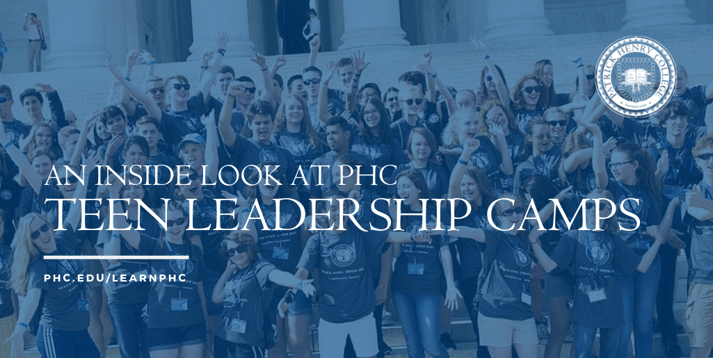 Faith Roberts says she's going to miss the sense of "togetherness" she found in the environment at Teen Leadership Camps this past summer. As miles of highway fly past her window on the drive back home, it's that tight-knit feeling of community that she's going to be thinking about.
But it's not the only thing she's going to miss.
[Click here to see pictures and videos of Teen Leaderships Camps 2019]
She's going to miss the moments on the bus ride into Washington D.C. and the impactful experience of visiting the Holocaust Museum. At camp, Roberts learned the key differences between Buddhism, Mormonism, Hinduism, Islam, and Christianity—it will be a while before she's in a class like that again. And she's going to miss the times of spiritual and emotional openness she experienced singing and praying alongside fellow Christian teens in chapel.
On the whole, her time at camp has been one of growth and learning; it's what Teen Leadership Camps are for.
"The top priority was to grow my thinking," Roberts said, "growing how I think about life and reasoning."
For the past two weeks, Roberts has been at two of Patrick Henry College's Teen Leadership Camps. These week-long experiences, hosted on PHC's campus, provide Christian teenagers ages 14-18 with a look into various academic and recreational themes, such as Strategic Intelligence, Speech, and debate, in order to help participants develop individual areas of interest. They run from mid June to late July.
Roberts was looking to find a meaningful summer experience that was more than just "fun," and would challenge her to think critically about her beliefs. That's why during her first week at PHC, Roberts attended Leadership and Vocation, a look into some of today's most influential worldviews and went on to stay for C.S. Lewis Camp, a study of some of the Christian author's most powerful writings.
At Teen Camps, whether the focus of the week is about Strategic Intelligence or about Shakespeare, each topic is examined through the lens of a Biblical Worldview, bringing a week filled with educational material together with an enriching spiritual experience. These classes, led by faculty and professors from Patrick Henry College, introduce students to college materials and ideas at an understandable high-school level. Here, many students have found the opportunity to have fun and think critically about topics that matter.
"It's a happy place whether its playing games or in the classroom. Professors have a way of making it interactive. It's not just like a lecture," Roberts said.
But not all of the camps are quite so serious. There's an element of playfulness to each day. Take for example, Gerome the Gnome—the mascot of uncleanliness.
Each morning, campers are required to clean their room. Each hallway of dorms is a team competing for the top cleanliness score. At the end of the day, the hallway with the worst score receives Gerome the Gnome, a clay garden gnome of infamous renown.
"He has the worst eyebrows. They stick out too much," she said.
Like most summer camps, Teen Camps provides students with an abundance of out-of-the-classroom activities. Talent shows, campus wide hide-and-seek, dining-hall skits, and games of Frisbee pepper the students' stay.
By bringing together high school teenager's imaginative energy and introducing it to maturing topics, Teen Leadership Camps offer students a rounded experience that will expand their horizons and enlarge the way they think about their world. It's a summer experience that encourages students to reach high and grow deep.
Click here to learn more about Teen Leadership Camps at Patrick Henry College!
-----
Learn how PHC stands apart from other Christian liberal arts programs.
Patrick Henry College exists to glorify God by challenging the status quo in higher education, lifting high both faith and reason within a rigorous academic environment; thereby preserving for posterity the ideals behind the "noble experiment in ordered liberty" that is the foundation of America.