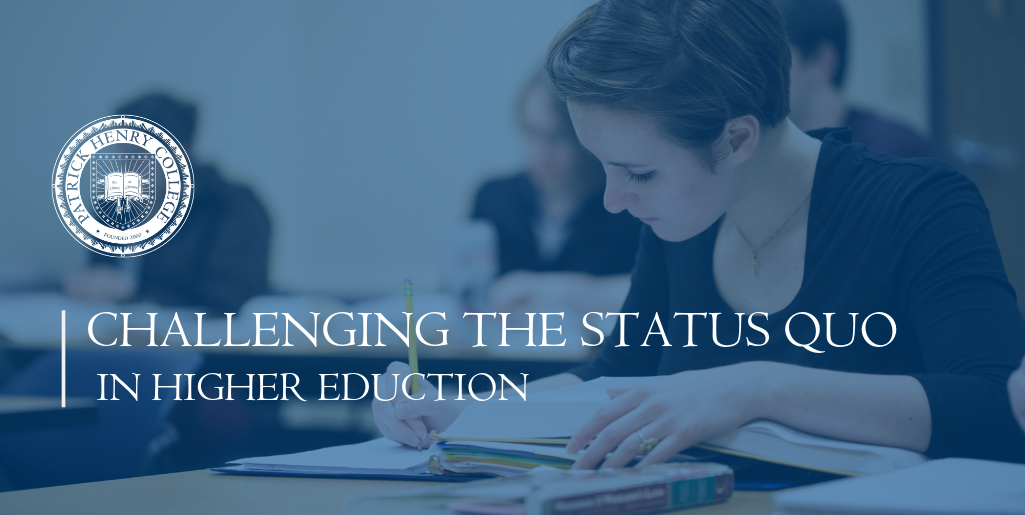 Patrick Henry College aims to challenge the status quo by re-defining higher-education.
A good education today might be considered one that gives its students a quality education, or prepares them with as many resources as are available, and takes all measures to equip them for the workplace. That's certainly part of the picture. But, at the same time, handing students a pile of books, preparing them for exams, and giving them a certificate doesn't necessarily make them thinkers.
Patrick Henry College aims to do something more. At its core, an education at PHC is designed to change its students. It's specifically tailored to take recent high-school graduates and train them to operate at the highest levels of academic, social, and political circles.
Aristotle said it best: "You are what you repeatedly do. Excellence, therefore, is not an act, but a habit." In that light, producing excellent students is not a matter handing over resources, but instead of nurturing a mindset of excellence.
There are three parts to how Patrick Henry College does this.
#1 High Academic Rigor
PHC's classes are designed to help students explore both their strengths and weaknesses. There is no class for problem-solving and time-management at PHC. Instead, there's the 63-credit core curriculum, designed to be both difficult and enriching. It encourages students to build healthy organizational habits. Each paper, exam, and project will help students better assess their resources to overcome the requirements of each individual assignment. They are designed to push students to their limits and show them how to go further.
There's also a wide-range of required material. Writing, public speaking, memorization, reading, and analyzing are all components of the core curriculum. These are incredibly pragmatic skills that will serve students well in any workplace or scenario. Students that complete the core will come away with a rounded set of experiences that will prepare them to perform and problem-solve—regardless of what's put in front of them.
#2 Fidelity to Spirit of the American Founding
Patrick Henry College is designed to train its students to lead the nation and shape the culture. But that's only possible if—and only if—it's students have an understanding of where the culture is coming from and what forces led it to the place where it is now. Without an appreciation for the past, it's difficult to have much concern or respect for the future. That's why a large part of the core curriculum is dedicated to history.
Students from PHC will understand that history is far more complex and dynamic than could ever be captured in a single textbook. A history of Philosophy, a history of literature, a history of political theory, gives context to the world of today and sheds light on other areas of studies such as politics and current events.
#3 Unwavering Biblical worldview
There's a great emphasis at PHC on philosophical, ideological, and pragmatic consistency. It's the College's conviction that ideas like "excellence" or "beauty" or "morality" are consistent with the principles laid down in the Bible. A proper consideration and application of excellence in academics or in one's personal life necessitates a basis, a framework. Patrick Henry College uses the bedrock of the Bible to build and strengthen students' worldview. Through classes like Theology I and II and Principles of Biblical Reasoning, students will be able to give a defense of their faith and learn to reason out their beliefs.
While most schools leave students to find that framework on their own during or after their education, PHC students know where they're coming from and can go anywhere with a deep-rooted sense of purpose.
Students from Patrick Henry College have been trained to get the job done. They have a sense of the past and an understanding of their duty to the future. They have a firm foundation, an unwavering mindset to work from. They aren't afraid of the big questions—the ones that matter—or of daunting assignments. They don't just give right answer; they grow—and they have a hunger to continue growing.
To see some of the results from Patrick Henry College, click here to see what students have accomplished so far.
-----
Learn how PHC stands apart from other Christian liberal arts programs.
Patrick Henry College exists to glorify God by challenging the status quo in higher education, lifting high both faith and reason within a rigorous academic environment; thereby preserving for posterity the ideals behind the "noble experiment in ordered liberty" that is the foundation of America.