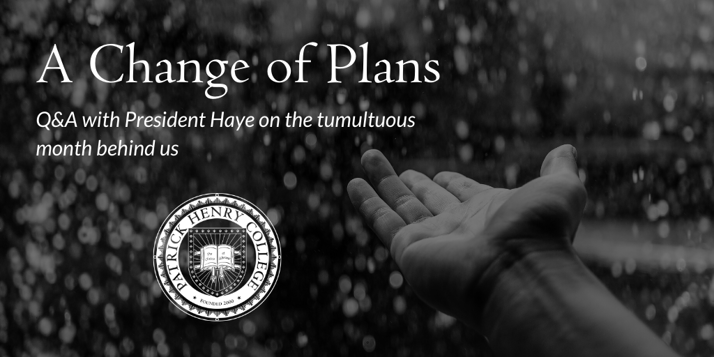 On March 1, a group of 38 students left the U.S. to participate in a Spring Break program hosted in Israel by Passages, which offers college students the opportunity to connect with the roots of their faith by experiencing both historic and modern Israel. President Jack Haye and his wife Carol served as team sponsors for this trip.
Read our interview with President Haye about the sudden changes we've seen take place this month.
[READ: Students Experience Israel With Passages in 2020.]
Patrick Henry College: In the last half of the trip, Passages informed you that in light of accelerated spread of COVID-19 outside of Israel, there was a good chance that the Israeli government could soon begin to quarantine foreign visitors and potentially even close the airports. They said that you should prepare to bring the team home a few days early as a precaution. What were some of your thoughts as you flew back to the States?
Jack Haye: There are certain moments in life when we are called to remember that God is sovereign. While we were disappointed to end the trip three days early, rumblings on the ground in Israel coincided with Passages' decision to bring the teams home. Our prayer was that God would protect us on the way home and that He would somehow use all of this for His glory and our good.
PHC: But you didn't have much time to settle in. The day after returning you received a notification that two students on the Passages trip from another institution and one of our own students had developed flu-like symptoms. What were your thoughts then? Wait and see or self-isolate the Israel team?
JH: There was limited testing available for COVID-19 at that time. So, we had to make a decision as an abundance of caution. We were already in contact with the family of our student who was earlier in the day diagnosed with pneumonia but had not been tested for COVID-19 based on her symptoms. (That test, and tests on the other two students showing symptoms, would come the following days and return with negative results). We had little contact with students from other buses but wanted to proceed with caution just in case.
I sent Carol a text mid-afternoon and asked, "So, how would you feel about a sleep-over... for 38?" I was pulled into several conversations simultaneously and did not have a chance to get back to my phone for about an hour. When I did, I found a series of "?" responses from her. Her last response was pure gold. She wrote: "Whatever it is, we'll handle it." So, we contacted the Israel team and within about an hour had moved them into our home. Faculty and Staff were amazing; gathering blow-up beds, arranging meals, providing snacks and arranging for the students to attend their classes remotely.
PHC: A student on the trip characterizes your home as "Purcellville's most comfortable quarantine." Allyn Sims wrote up a story for The Herald that shares how "notes from 'Victory in Jesus' were wrapped in the beams of the morning sun." Allyn says that there were "extended prayer times" and "a peace that pervaded the house. There was laughter and warmth." How would you characterize that time in your self-isolation with the team?
JH: We have the most amazing college students in the world! They were wonderful guests to have in our home. Their flexibility and kind spirits were on display 24/7. Each day we had times for reading Scripture and praying together and, of course, there was always incredible music as students gathered around the piano. You know, we each process stress in different ways. Music seems to be a common denominator for many of us.
[WATCH: A moment from the trip of a lifetime: the 2020 Passages trip to Israel]
PHC: Being a leader at such a time is, no doubt, extremely testing. There were 40 of you experiencing a potential health scare. What could you share about that time? How has God shown his favor, power, peace, presence, etc. in the midst of the storm?
JH: God has promised His Presence in the midst of every storm. Sometimes He calms the storm and our circumstances radically change. Sometimes He calms us as we hear Him say in John 6:20: "Don't be afraid. I am here." In those instances, we are often radically changed even as the storm continues to rage unabated. He is faithful!
------
One of PHC's three distinctives is our dedication to a biblical worldview, inside and outside of class. Click below to learn more about spiritual life on campus!