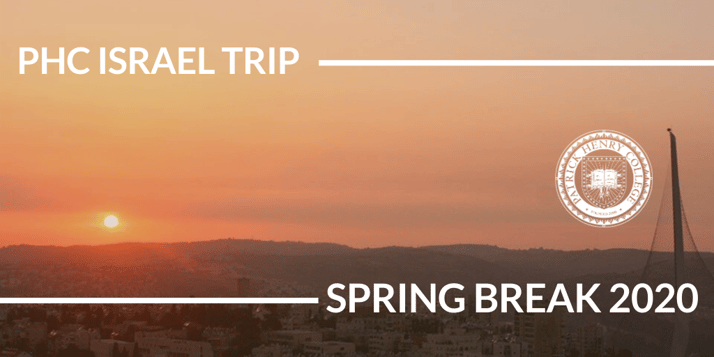 Thirty-nine Patrick Henry College students had the opportunity to travel to Israel for eight days this spring break. While in Israel, PHC students encountered the roots of their Biblical faith first-hand and came face to face with the modern-day miracle that is Israel.
Students traveled with Passages Israel, an organization focused on offering Christian college students a fresh innovative approach to experiencing the Holy Land. This was PHC's third time partnering with the organization.
The students' itinerary included visits to Biblical sights such as the Sea of Galilee, the Garden Tomb, the Jordan River, Jerusalem, and more. They also visited locations relevant to the history of the modern Jewish state.
"The trip to Israel has created a larger desire to understand the Bible and research various aspects about the places the Bible mentions... now, when I see some of the places mentioned in the Bible, I have the context of the place in my mind. Already, I've opened my Bible at random times to read various passages and try to understand them better," said Simon Sefzik.
Through Passages, the students were able to travel from sight to sight by bus with a tour guide named Sabbat, who taught them the history of each sight they visited.
"I am still trying to wrap my head around all that I learned. All I know is that Jesus is more real and vivid. While God is omnipresent and alive in all of us, He chose to specifically come to Israel, and I could see glimpses of Jesus while I walked among the Israelis," said Rachel Hankinson.
In Israel, students enjoyed beautiful stays in three different hotels throughout Israel and delicious Mediterranean food such as schwarma, hummus, and falafel. Students also enjoyed the magnificence that is the Holy Land, finding peace in the beauty that is Israel.
"Taking a boat out onto the Sea of Galilee was one of my favorite experiences while in Israel... being on the boat and feeling the warm breeze and the spray of water gave me a feeling of peaceful stillness. It was a quiet time for my heart and soul to reflect on the goodness of Christ, a time for me to reflect on both the majesty and artistry of God, and a time for me soak in the reality and truth that Jesus came as an ordinary man to fulfill the will of God so that we could spend eternity with Him. It was a time that made me truly feel so minuscule in comparison to the might, glory, and love of God," said Hannah Munshi.
"I loved being able to go to Israel with other PHC students. Experiencing something as awesome as the Sea of Galilee is one thing, but being able to share that experience with people you care about is something else entirely. It made the trip as a whole more memorable and enjoyable," said Peter Kim.
Out of an abundance of caution in light of COVID-19, Passages shortened the trip by three days. The students arrived safely back at school.
----
Click below for more about opportunities to travel while at PHC!