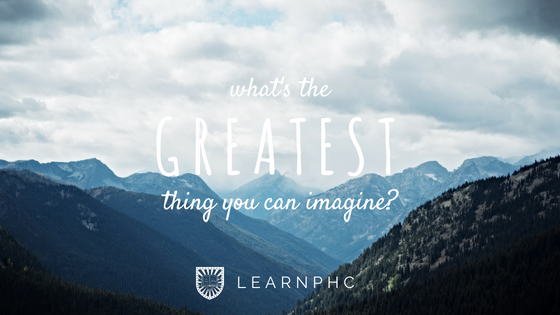 What's the greatest thing you can imagine? Being a millionaire? Having a large, loving family? Being a lawyer, teacher, politician, writer, spy, or pastor? Traveling the world and seeing the Seven Wonders? Or traveling to outer space and living on one of Saturn's moons—which already has a subarctic ocean and plant life? (Enceladus is suuuuuper cool by the way).
Now imagine something even greater than that. Having trouble? While living on one of Saturn's moons would be out of this world, what I want to talk to you about is infinitely more awesome than that. I'm talking about what God has prepared for his kids, and that starts with Wisdom.
In talking to many of you, the recurring theme is wisdom. You are praying for wisdom, asking for wisdom, talking to others about the future and seeking good advice. In the midst of your questions I want to encourage you:
God has revealed wisdom, and it exceeds anything you could imagine.
Oftentimes I fall into a trap and think I can boil down God's wisdom to a play-by-play of my life—whether or not I should move to a certain place, take a certain job, study a certain subject, or have a certain career. And while the Lord provides very clear direction about the details in our lives, there is a far truer wisdom he has already revealed.
The greatest wisdom of all is the great mystery of our salvation. Jesus Christ, the Son of God, came down to earth and paid the cost for my, and your, pitched rebellion against God.
This Jesus was tried for my crimes, sentenced to a cursed death, hung on a crooked cross, and died for me. He then rose again on the third day to show that Death was defeated and his Sacrifice was complete. But the story does not end there! He sent his Holy Spirit as a seal, a promise, that we would spend eternity with him and even now, we are becoming more like him in both his life and his suffering.
In 1 Corinthians, Paul is writing to a group kind of like you all (or y'all if you're from Texas). They are smart, ambitious, and live in a thriving cultural center with plenty of opportunities to "lead the nation, and shape the culture." Listen to what he says to them: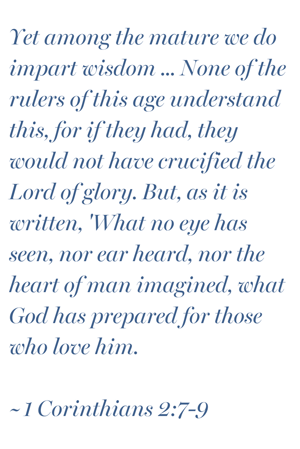 Yet among the mature we do impart wisdom … None of the rulers of this age understood this, for if they had, they would not have crucified the Lord of glory. But, as it is written, 'What no eye has seen, nor ear heard, nor the heart of man imagined, what God has prepared for those who love him.' (1 Cor. 2:7-9)
Think about that. If only you could conceive of the goodness of the grace already offered you, you would need nothing else.
Now I know what you're going to say. "Aimee, the Bible verse says that I can't imagine the things that God will do for me, so that doesn't help me right now. I need to know what to do this fall."
I get it. There are many question marks and there will continue to be for the rest of your life. I hate to break it to you, but you will exchange one season of questions for another further down the road.
[Related Post: I Almost Didn't Graduate: A Story of God's Faithfulness to Provide]
The only way to live well in a season of questions is to press into the Lord and get to know him better. Only then will you begin to see just how good God is and glimpse the vastness of his plan for redemption in your life. Verse 12 spells it out: "Now we have received not the spirit of the world, but the Spirit who is from God, that we might understand the things freely given us by God." (1 Cor. 2:12)
What are the things God freely gives us? Grace. Steadfast Love. Mercy. Forgiveness. Lovingkindness. Peace.
If you haven't experienced these gifts lately in your desire to figure out what to do next fall, I encourage you. Take a minute and stop. Contemplate the greatest gift in the world: your blood-debt is paid and you are free, adopted as God's child, and an heir of the heavenly places! Not even living on one of Saturn's moons can top that. I can imagine nothing better.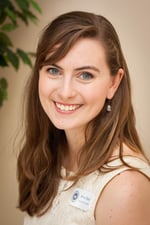 Aimee Stauf graduated from Patrick Henry College in 2015 with a degree in Journalism. She now works as Prospect Marketing Lead at Patrick Henry College. She has also interned with WORLD Magazine, Breakthrough Intercessory Prayer Ministry, and Trinity Christian School. When not dashing off another sparkling email, Aimee loves exploring Northern Virginia, traveling internationally, or cooking up a new international favorite.
---