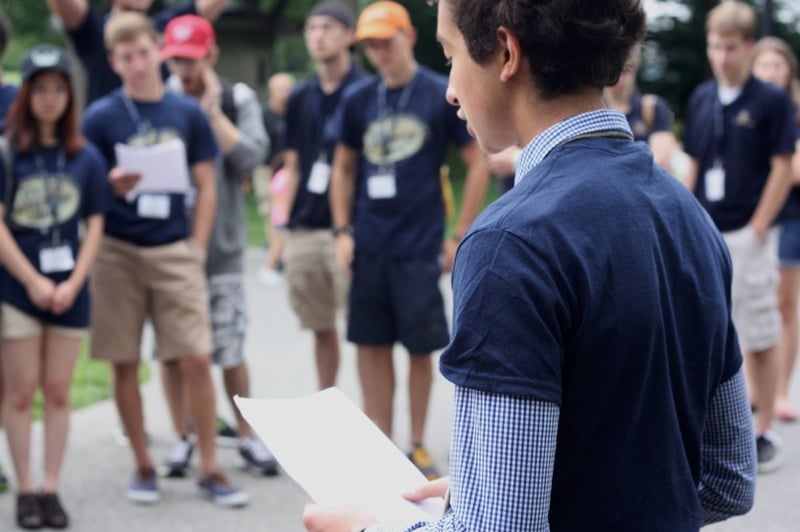 This summer we are so excited to have Zachary and Natalia Rosa back as the instructors for our Speech camp! It is going to be a blast, and we know you won't want to miss it!
If, however, the prospect of public speaking causes you to break out in a cold sweat, here are some valid reasons why you should conquer your fears and take a shot at public speaking:
1. It's a skill you'll use for the rest of your life.
Public speaking opportunities are everywhere. Whether delivering an announcement in a class or group setting, giving a presentation to your coworkers, or witnessing about your faith, you will always find a chance to speak publicly. So why not learn how to do it now!


2. You're probably better at it than you think.
You might think you're too shy to speak in front of a crowd, but you're probably underestimating yourself! With the right instruction and some helpful tips, you'll be able to write your own speech and even learn how to give a speech on a random topic with only a few minutes of preparation.


3. I

t helps for college and job interviews.
While getting a job or getting into college is often based upon your application and resume, your interview performance and demeanor is critical. Learning how to respond to questions in a poised and well-spoken manner now will help you out over the years to come.


4. It boosts self-confidence.

Knowing how to accomplish a difficult task makes it a lot less intimidating. The more often you tackle a challenge, the easier it gets and the more confident you become.


5. You can win your arguments!
Sure not all arguments are important – chocolate vs. vanilla, for instance – but some discussions are aided by clear speaking and good organization. This will also help you when writing argumentative essays or thinking through a school assignment.

6. It's a lot of fun.
*Gasp* How can public speaking be fun? While it may sound counter-intuitive, learning how to speak publicly can be a blast. You'll learn how to explain things that you find interesting, feel the euphoria of completing a job well-done, practice reading other people in order to rally them to your cause, drink in applause, and more!
Interested in learning how to give a speech? Try our speech camp this summer! Not only will you learn how to give a speech, but you'll also have an incredible time making new friends and learning more about your faith. For more information check out the teen leadership camp description and sign up today!
Speech camp takes place from July 9 – 15 and is taught by Zachary and Natalia Rosa.