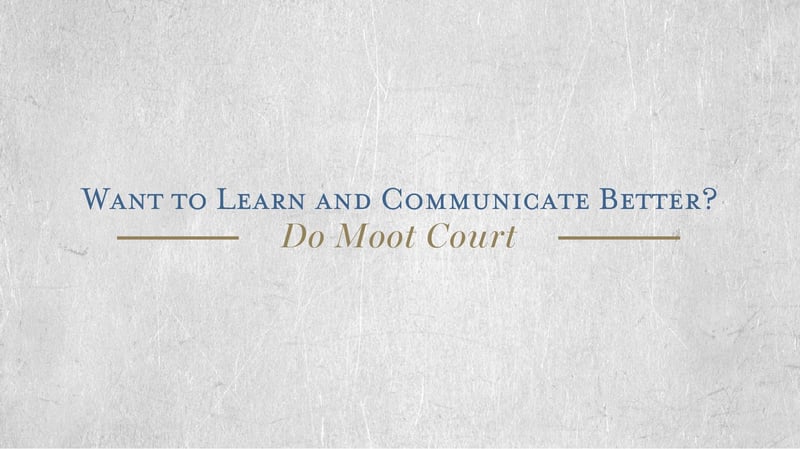 You've probably heard by this point that Patrick Henry College students excel when it comes to moot court, especially when juniors Meridian Paulton and Thomas Siu swept both the national brief-writing and oral competitions this year. But for those who have never heard of the program or have no desire to enter law school after college, you may have shrugged your shoulders and said, "so what?"
News flash: Moot court is not just an extracurricular activity that helps students get into law school or enhance their resume. It is a discipline that shapes students into the speakers, thinkers, and people they are today.
"It helps me think through things in a systematic way," Meridian Paulton said. "It also helps me read people better. It teaches you to listen well and communicate a good response."
Meridian began debating her junior year of high school and has participated in moot court since her freshman year at PHC. Her sophomore year, she and her partner won the American Moot Court Association's brief-writing competition. When Meridian and Thomas won the competition again in 2017, they became the first team to win the brief-writing competition twice in a row in history.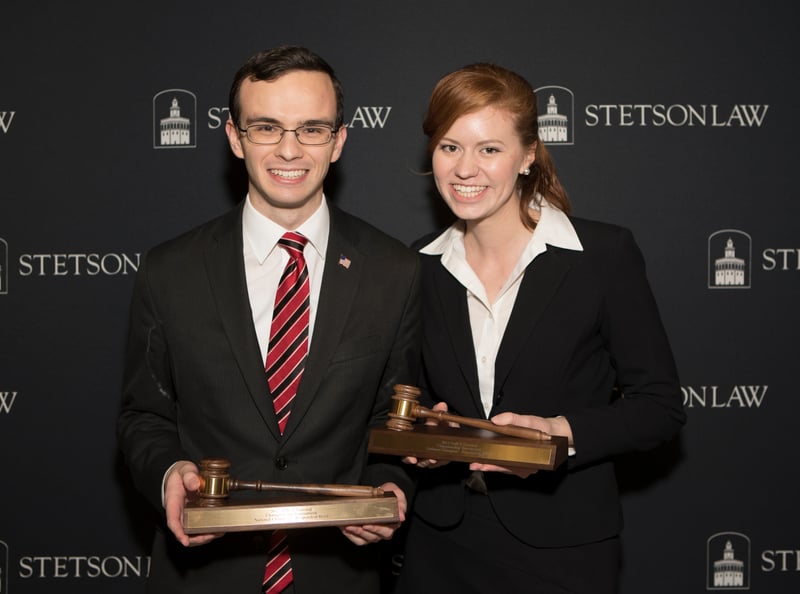 Siu and Paulton after their win
Despite her success in courtrooms, Meridian is not completely certain that she wants to pursue law school.
"I'm deciding right now between law school and a different area of study in grad school," she said. "After I graduate, I plan on taking a year off to determine which route to pursue. Ultimately, I'm interested in public policy advocacy."
Junior Sarah Geesaman started doing moot court her sophomore year.
"It's helped me develop my communication skills, both taking in what other people are saying and making what I'm saying clearer," she said. " When you're in a moot court round and the judge asks you a question, oftentimes it's not enough to simply hear the words that they're saying… It does teach you how to discern the deeper question someone may have that extends beyond the concerns they bother to voice."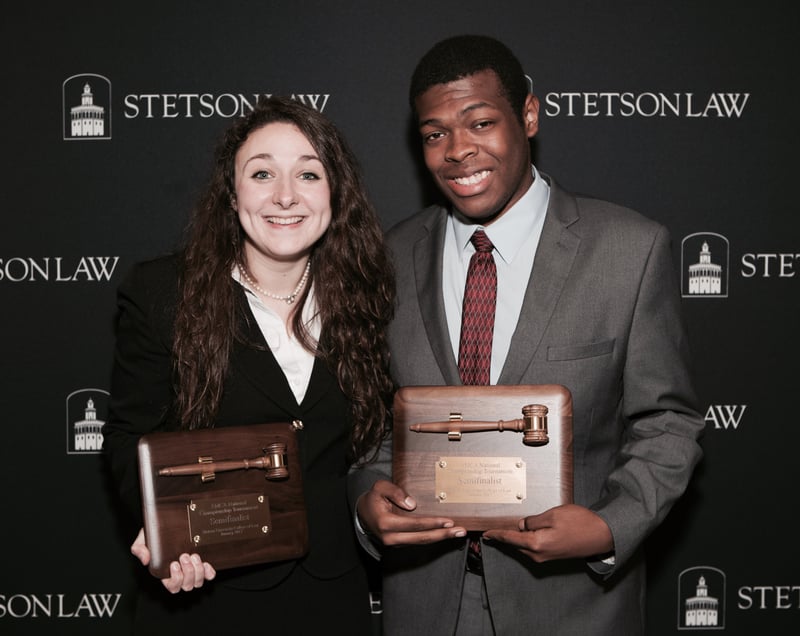 Sarah and partner Myles Chaney after becoming 2017 ACMA National Championship Semi-Finalists
Sarah does not see herself as attending law school in the future, but she is still grateful for her time doing moot court.
"The communication skills I've developed through moot court will help me work with and understand people better, regardless of what I wind up doing," she said. "Those kinds of skills are pretty cross-applicable."
Moot court also greatly increases a grad's chances of excelling at law school, says PHC moot court coach Dr. Frank Guliuzza.
"It helps you with your chances of admissions to law school. It helps with the comfort zone and levels of success once you get there," he said. "We've never had a student who did it and applied to law school and didn't get in… In fact, we've had students who have won law school national championships, so the preparation that they got here certainly translated over into law school moot court."
Class of 2010 alumna Carmen Green attended Georgetown University's law school. She was a member of PHC's moot court team from her freshman to junior year. As a member of Georgetown's moot court team, she won the American Bar Association's National Appellate Advocacy Competition, the country's largest graduate moot court competition, in 2014.
"For me, the most fun part of moot court was the camaraderie," she said. "We were really close as a team, especially my sophomore year. We ran a lot of moots, not even with coaches. There were lots of meetings in the library conference room running through arguments and lots of laughter and imagination."
PHC prepared her for the strenuous world of law school moot court, said Carmen, who is now a practicing attorney focusing on appellate work.
"It gives you a familiarity with what will be asked of you at law school and helps you understand what you have to do and the process of getting it done," she said. "It prepares you to already have familiarity with reading cases and writing briefs."
Dr. Guliuzza estimated he spent at least 75 hours running practice rounds with the moot court team last semester, yet he does not credit PHC's success to human effort alone.
"We always try to pray and ask the Lord to bless our ability to think and to communicate, that we are better than we can be, so that is the unassailable blessings of the Lord upon us," he said. "We always pray for our opponents that they're proud of what they accomplish but that they're just beaten by a better team."
-------------------------------