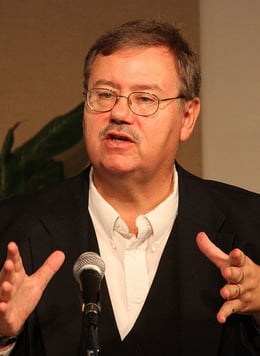 Professor of Government
Dean of Academic Affairs
Email: fguliuzza@phc.edu
Phone: 540-441-8042
Educational Background:
Ph.D. in Government & International Studies, University of Notre Dame
M.A. in Political Science, University of Wyoming
M.Div. in Theology, Southern Baptist Theological Seminary
B.S. in Social Science, University of Wyoming
Time at PHC: 2008 to present
Frank Guliuzza is the Dean of Academic Affairs at Patrick Henry College. He also serves as the College's Pre-Law Advisor, coaches the College's mock trial and moot court teams, and is Professor of Government.
Dr. Guliuzza received his doctorate from the University of Notre Dame after previously earning his bachelor's and master's degree from the University of Wyoming, and a Master of Divinity degree from Southern Seminary. He came to Patrick Henry after teaching at Weber State University, the University of Minnesota-Duluth, Vassar College, Wheaton College, and Notre Dame.
In his academic career, he has been recognized four times for "Outstanding Teaching in Political Science" by the American Political Science Association (2000, 2003, 2004, 2008). While at Weber State he was awarded The "Endowed Professor" in the College of Social & Behavioral Sciences, and, in 2003-2004, he was presented with what is perhaps Weber State's most prestigious faculty honor – The "John S. Hinckley" Award for excellence in teaching, service, and scholarship. He was the recipient of the Dello Dayton Award in 2008 and the Congressman Neal Smith Award from the American Mock Trial Association (2008) for his exemplary contribution to law-related education. In 2003, he was selected by the Council for Advancement and Support of Education & Carnegie Foundation for the Advancement of Teaching as "Utah Professor of the Year." He has also been listed in Who's Who in Teaching twice (2005, 2006), and was in Who's Who in America (2011, 2013-2016). Now he's a lifetime recipient of recognition in Marquis Who's Who.