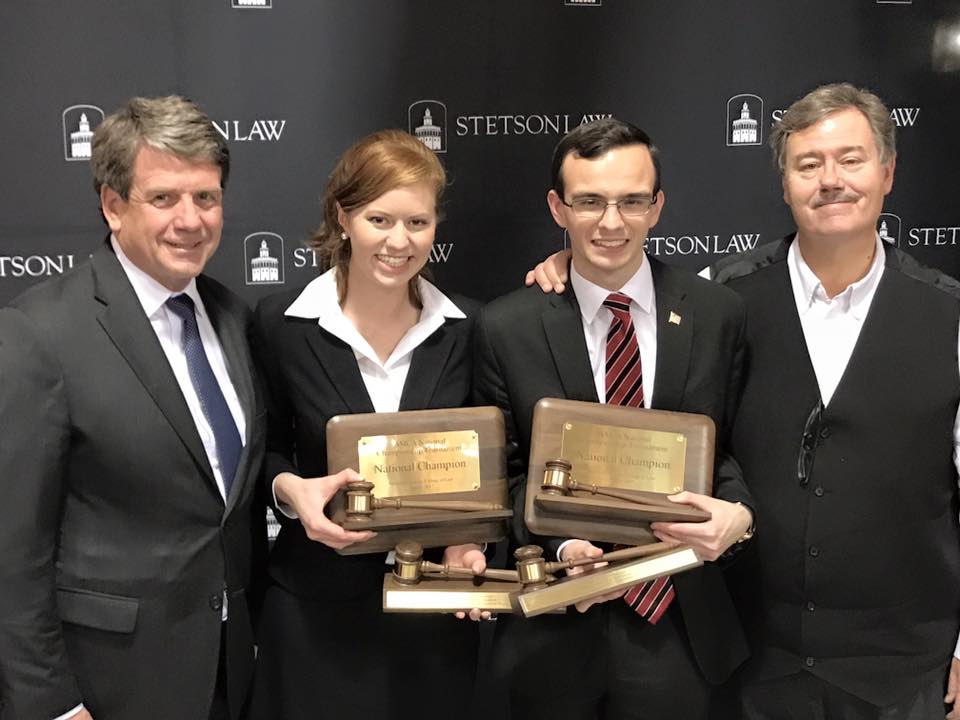 Purcellville, VA, January 10, 2017 — Patrick Henry College once again swept the national competition in intercollegiate moot court, winning its tenth intercollegiate moot court national championship in Gulfport, Florida. In addition to winning first place, PHC finished with three of the top four teams at the tournament.
Juniors Meridian Paulton and Thomas Siu took the victory.
"The field keeps getting stronger but Patrick Henry rose to meet the challenge," said Michael Farris, Chancellor and Founder of PHC.
The field included the University of Chicago, University of Virginia, Duke University, and Holy Cross. In semi-finals, there were two teams from PHC, a team from the U.S. Air Force Academy, and a hybrid team with one student from PHC and one from California State University, Long Beach.
PHC defeated U.S. Air Force Academy in finals. Third place at the tournament went to PHC team Shane Roberts/Clare Downing with fourth place going to hybrid team Sarah Geesaman/Myles Chaney.
In addition to winning the championship, Paulton and Siu are the second team in the history of the American Moot Court Association to win both the brief writing and oral argument national championships. The prior team was Alex and Brett Harris in 2011, also from Patrick Henry College.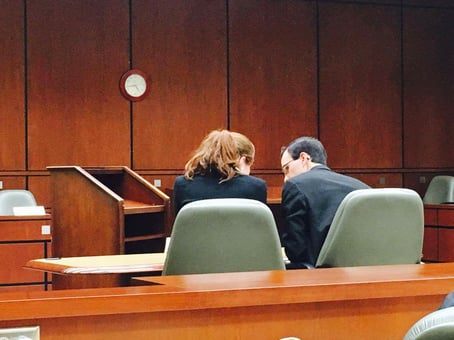 "We feel so blessed," says Paulton. "Every one of the teams that PHC brought was champion-caliber. The competition was definitely tougher this year than last year, but PHC kept up, placing 1st, 3rd, and 4th, and taking home two top ten speaker awards"
"We're thankful for our coaches and our teammates for pushing us and to God for the results," says Siu.
The 2016-2017 season featured approximately 400 teams competing in eleven national qualifying tournaments to earn coveted spots at the American Moot Court Association's Championship Tournament.
"Intercollegiate moot court is one of the great 'academic sports' like debate and mock trial", notes Dr. Frank Guliuzza, who co-coaches the PHC team along with Farris. "Each year the competition gets increasingly difficult. We are very honored and humbled by this level of success."
The Patrick Henry College roster of 2016–17 Moot Court National competitors includes:
Bakke, Brenna | Placentia, CA
Baldacci, Christopher | Winfield, IL
Barnes, Marina | Chesapeake, VA
Bock, William | Indianapolis, IN
Collins, Ryan | Jacksonville, FL
Cordaro, Nikki | Falls Church, VA
Downing, Clare | Tampa, FL
Engle, Caleb | Indianapolis, IN
Geesaman, Sarah | Williamsburg, VA
Hirsch, Helaina | Lafayette, CA
Meintjes, Emil | Celina, TX
Paulton, Meridian | Peyton, CO
Roberts, Shane | Athens, TN
Shelton, Andrew | Social Circle, GA
Siu, Thomas | Chardon, OH
Van Ness, Jacob | Yorba Linda, CA
Webb, Josh | Pelham, AL
Patrick Henry College, offering one of the nation's top pre-law programs, is an institution of higher education committed to robust classical liberal arts training as a Christian mission with a biblical worldview.
###
For more information or for comment from Michael Farris, contact:
Patrick Henry College
10 Patrick Henry Circle
Purcellville, VA 20132
Primary Contact:
Stephen Allen, Director of Admissions and Communications
Phone: (540) 441-8110
Email: scallen@phc.edu
www.phc.edu