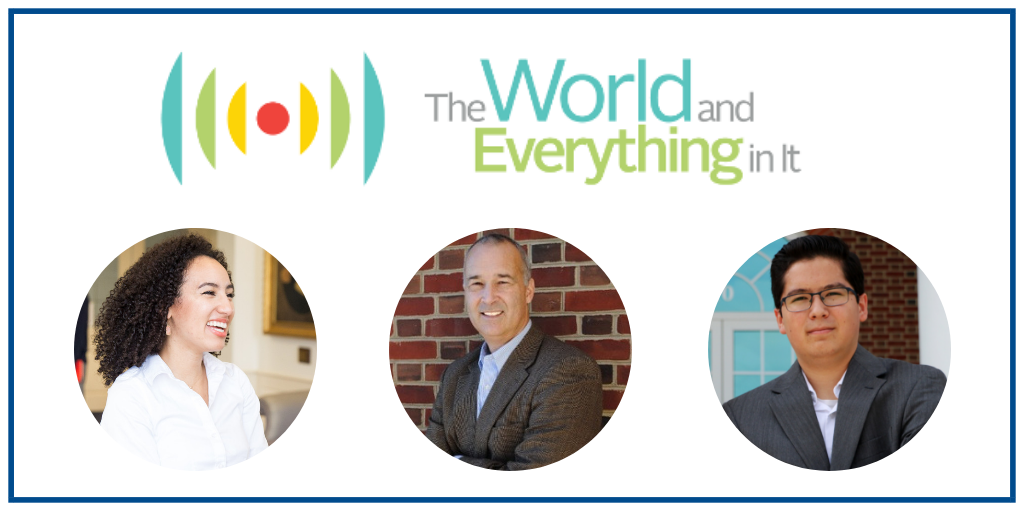 Junior Kyle Ziemnick, the newest Editor-in-Chief of PHC's student publication The Herald, contributed three segments this semester to The World and Everything in It.
His first piece, which ran in early October, discusses abortion access in California. The second explores the details and implications of Title IX exemptions. His most recent piece features PHC student Ben Stiegelmeier, a certified auctioneer who sees his profession "as a calling...It's where God has given him an opportunity to let his light shine." You can listen to all three segments here. This week, LearnPHC interviewed Kyle about his experience.
How did this opportunity come about for you? I attended the World Journalism Institute (WJI) last summer, which was a great experience that I'd recommend to anyone wanting to get involved in journalism. There, I produced a couple of radio pieces, which were a lot of fun to make and went pretty well. About a month later, one of the editors of the podcast contacted me through Dr. Les Sillars, and they offered me an internship for the semester to produce a few stories.
Will you continue to contribute to WORLD in the future? I still have one more story to do for them, which will hopefully be done by some point in January, and I'll most likely be writing pieces for the magazine's website next semester, but not radio pieces—I needed to take a break. I've really enjoyed working with them so far though, and if they'd still like to have me, I'm happy to keep on contributing.
What are some of your hopes and expectations for this upcoming semester as Editor-in-Chief of The Herald? This semester, I'd like to try and streamline the creation process and structure of The Herald a little bit. I'm also hoping we can continue to help all the staffers we'll have on board find their strong suits, get good experience finding stories off campus, and improve their writing as much as possible. But I realize you can only do so much in a semester, so I don't have overly lofty goals. Honestly, my biggest hope is that we can all have even more fun than we did last semester. Yes, you have to take the work seriously, but it's been a blast working with these guys on the The Herald, and I'm just praying that continues.
Dr. Sillars, Director and Professor of Journalism at PHC, has been connected with WORLD for quite some time now, his latest roles being the Mailbag Editor and a regular contributor to world.wng.org. This month, however, he announced his new position on The World and Everything in It, where he'll provide commentaries and, eventually, feature stories on the program. Listen to his introductory piece here, where he shares what his earthly father taught him about God's love and forgiveness.
Sillars was also featured on WORLD's weekend podcast "Listening In" this June. The piece unpacks the current state of objectivity in journalism, the mainstream media's crisis of credibility, and the role of stories in news. Listen here. He expounded on the top in his recent article, "The Abolition of Journalism."
Patrick Henry College's longstanding relationship with WORLD has been the source of numerous internship and job opportunities for journalism students over the years.
Harvest Prude ('18), a graduate of PHC's journalism program, was hired by WORLD this summer to report on some of the most pressing political issues of 2018. Stationed in Washington, D.C., she has covered immigration policy, the midterm elections, Brett Kavanaugh's hearings, and more. Like Kyle, Harvest was also a graduate of WJI and former Editor-in-Chief of The Herald. You can read her latest stories for WORLD here.
---
Explore more about the journalism program by clicking on the button below.