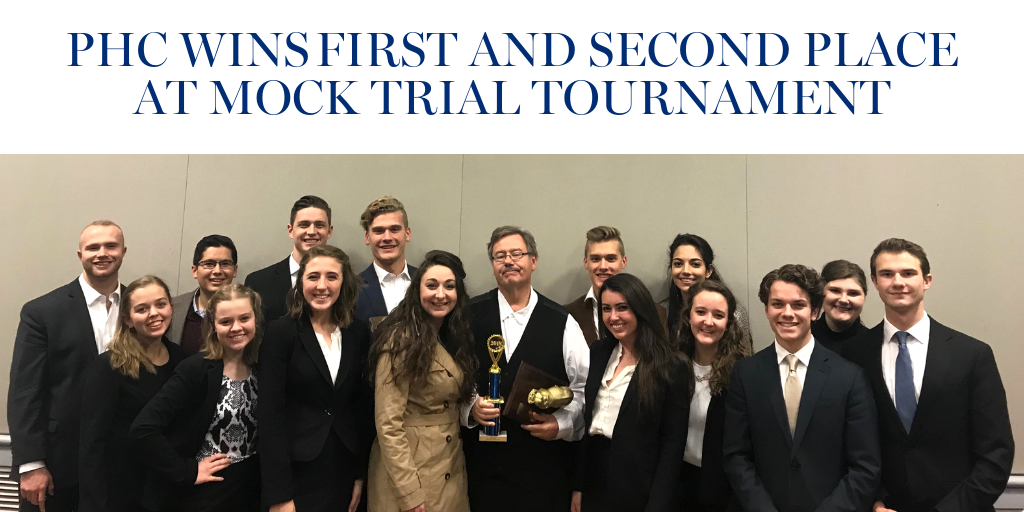 Patrick Henry College took both first and second place at the George Washington University mock trial invitational tournament last weekend. Twenty-two teams from 17 colleges and universities competed, including Yale University, Princeton University, College of William and Mary, George Washington University, Georgetown University, Howard University, and the University of Richmond, among others.
PHC's senior-most team came in first place and ended with a 7-0-1 record, "meaning they won all but one ballot and tied the last one," explained Assistant Coach Sarah Geesaman. The second team won all but one ballot as well.
In mock trial, competitors play characters in a courtroom scenario—witnesses, district attorneys, defense counsels, etc.—and often use theatrical techniques to develop their personas. Freshman Benjamin Crosby and seniors Caleb Engle, Chris Baldacci, and Nikki Cordaro, received the "Outstanding Attorney" award. Marina Barnes received "Outstanding Witness."
Nikki Cordaro explained that she and Marina Moreira, both co-captains of the second place team, had the vision to bring fresh talent to their team last spring. Over half of their team has no previous mock trial experience whatsoever. "Seeing how that vision bloomed this weekend was really cool," she said.
Howard University, College of William and Mary, and Southern Methodist University received third, fourth, and fifth places respectively.
Patrick Henry College stepped into the American Mock Trial Association (AMTA) during the 2008-2009 season under the leadership of Dr. Frank Guliuzza, who has been a faithful coach and mentor to the students ever since.
-----
To learn more about forensics at PHC including Moot Court, British Parliamentary, and National Model United Nations, click the button below.