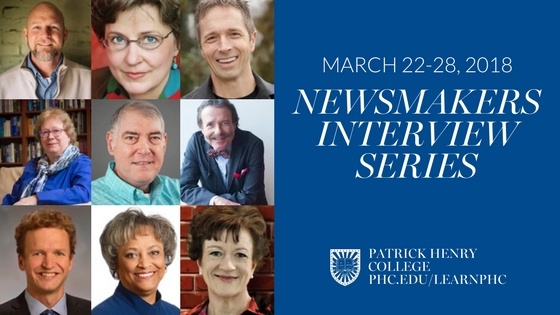 Patrick Henry College is once again privileged to host Dr. Marvin Olasky and WORLD's Newsmakers Interview Series, March 22-28, 2018.
While the Newsmakers Series is always an exciting time at PHC, this year's lineup is especially impressive.
Nowhere else in the community do such accomplished individuals gather to share their expertise, stories, and vision at no cost whatsoever to the public.
This is a time to participate in the Great Conversation and expand your understanding of our world today — to hear from those who are on the front lines of ever-changing cultural dialogues like poverty, sexuality, science, theology, and so much more.
All interviews are free to attend and will be held in the Barbara Hodel Center's main lobby at PHC.
Among others, nationally acclaimed authors Nancy Pearcey and Min Jin Lee will share on their recent works, Love Thy Body and Pachinko, respectively; President of the Heritage Foundation Kay Coles James will discuss current public policy issues; and Mez McConnell, Senior Pastor of Niddrie Community Church in Edinburgh, Scotland, will tackle issues of poverty and family abuse cycles.
Keep scrolling to read more...
Thursday, March 22
If you want to fight homelessness, come hear James Whitford, executive director of Watered Gardens Gospel Mission in Joplin, Missouri, and director of the True Charity Initiative. He'll introduce you to ways to help change lives and not just hand out spare change.
Author of

Love Thy Body

and other books
If you want to know what the Bible has to say about sexuality, come and hear Nancy Pearcey, author of Love Thy Body. A professor at Houston Baptist University, she analyzes the faulty worldviews that underlie the hookup culture and shows why secularists don't grasp the importance of physicality.
Friday, March 23
If you're thinking of becoming a scientist or you have questions about creation and evolution, Ann Gauger will be helpful to you. She received a Ph.D. in developmental biology from the University of Washington and is a senior research scientist at Biologic Institute.
If you want to improve your understanding of LGBT issues and how to think and talk about current trends and pressures, Harvest USA founder John Freeman (author of Hide or Seek?) and our own Professor Stephen Baskerville (author of The New Politics of Sex) will add to your thinking.
Saturday, March 24
Ben Barton (11:00am)
U. of Kentucky Law Professor and Author
If you're thinking of going to law school or want to improve criminal justice, you should hear University of Kentucky law professor Ben Barton: His latest book points out ways to have greater justice by using more technology and fewer lawyers.
Monday, March 26
If public policy intrigues you, come hear Kay Coles James. During her interview here five years ago, she criticized the Republican Party and white conservatives for their lack of outreach to members of minorities: She is the new president of The Heritage Foundation and is now positioned to change that.
Biblical Counselor and Author of

Extravagant Grace
If you're thinking of seminaries and theological education, or have questions about God's grace and our own sinful efforts, Barbara Duguid's wisdom will be helpful to you. She is the author of Extravagant Grace: God's Glory Displayed in our Weakness.
Tuesday, March 27
If you want to learn more about worldviews and how to discuss them, Summit Ministries president Jeff Myers will be helpful. He taught me the four deadly questions: What do you mean by that? Where do you get your information? How do you know you're right? What happens if you're wrong?
If you want to help people escape from poverty, you should listen to Peter Cove. Fifty years ago he dropped out of graduate school to fight poverty through governmental means. In 1984 he founded America Works, which has succeeded where government failed in moving people from welfare to work.
Wednesday, March 28
Novelist and finalist for the 2017 National Book Award for Fiction (New York City)
If you like reading great novels and meeting great novelists, come to hear Min Jin Lee, author of Pachinko. She moved from corporate law to fiction-writing, was a finalist for the 2017 National Book Award, and will talk about how to become a writer, how being ill helped her development, and how her Christian beliefs influence her work.
Pastor, Niddrie Community Church (Edinburgh)
Our last guest this year has come the farthest: Scottish poverty-fighter Mez McConnell he has an amazing testimony of how God redeemed him from his family's cycle of abuse—and he's now helping to redeem many more.
---
We look forward to seeing you there! Explore the Newsmakers video archive by clicking the button below.