President and CEO of Prison Fellowship
With over 20 years of experience as a seasoned executive, today James Ackerman leads Prison Fellowship in its mission to restore those affected by crime and incarceration.
Ackerman's volunteer service in prison includes counseling a man on death row in California's San Quentin State Prison and as a pre-release instructor in Tennessee's Riverbend Maximum Security Prison. He and his wife Martha have also coordinated Prison Fellowship's Angel Tree program at their church, creating pathways for incarcerated parents to restore and strengthen relationships with their children and families.
A veteran of the U.S. Coast Guard. He and his wife Martha reside in Washington, D.C. They have two adult children, Holden and Lily.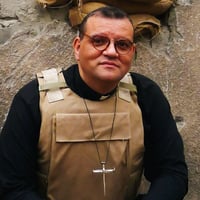 President of the Foundation for Relief and Reconciliation in the Middle East, former vicar of St. George's Church, Baghdad
Canon Andrew White was the vicar of St George's Church in Baghdad from 2005-2014, and has extensive experience of conflict mediation in Iraq and the wider Middle East. Previously he was the President and CEO of the Foundation for Reconciliation in the Middle East, and in late 2016 founded the Canon Andrew White Ministries and Jerusalem Merit organization to provide relief and reconciliation in Jordan, Israel, Palestine and other countries in the Middle East. He has written extensively about conflict resolution and has been involved in multiple hostage negotiations.

Frederica Mathewes-Green
Author and past Vice-President of Feminists for Life
Mathewes-Green holds a BA in English from the University of South Carolina and an MA in Theological Studies from Virginia Theological Seminary. She converted to Orthodoxy from the Episcopal Church and writes about Orthodoxy with a folksy and humorous style that have led to comparisons to Erma Bombeck and Garrison Keillor.
Mathewes-Green is strongly pro-life and writes and speaks against abortion.
Her books include:
Facing East,which recounts her experience as a convert to Orthodoxy.
The Corner of East and Now, a sequel to Facing East.
Gender: Men, Women, Sex and Feminism
Real Choices: Listening to Women, Looking for Alternatives to Abortion
Brad Wilcox
Professor of Sociology
Bradford Wilcox is Director of the National Marriage Project, Professor of Sociology at the University of Virginia, Senior Fellow at the Institute for Family Studies, and a Visiting Scholar at the American Enterprise Institute.

Professor Wilcox is the co-author of Whither the Child? Causes and Consequences of Low Fertility His research has focused on marriage, fatherhood, and cohabitation, especially on the ways that family structure, civil society, and culture influence the quality and stability of family life in the United States and around the globe.
Charles Murray
American Enterprise Institute scholar and author of many books including Coming Apart: The State of White America and By the People: Rebuilding Liberty Without Permission
Charles Murray is a political scientist, author, libertarian, and an American Enterprise Institute scholar. His books include Coming Apart: The State of White America, which describes an unprecedented divergence in American classes over the last half century and his most recent book By the People: Rebuilding Liberty Without Permission.
Murray, a statistically minded sociologist by training, has spent decades working to rehabilitate long-discredited theories of IQ and heredity, turning them into a foundation on which to build a conservative theory of society that rejects equality and egalitarianism.
FOX News Channel Chief Religion Correspondent, Classical Pianist, Author of Lighthouse Faith
Lauren Green currently serves as Fox News Channel's chief religion correspondent and is the author of Lighthouse Faith a book which explores the heart of the Christian doctrine and a pathway of perceiving God as an interactive hands-on presence; a caring and loving being.
Outside of her career at Fox News, Lauren is a reputable concert pianist with a degree in piano performance from The University of Minnesota. She has interviewed some of the most prominent people in the classical music world and covered such events as the Van Cliburn International Piano Competition and opening night of The Metropolitan Opera. In 2004, she released her debut album, "Classic Beauty."
Former Obama Staffer and Author of Reclaiming Hope: Lessons Learned in the Obama White House about the Future of Faith in America
Michael Wear is the founder of Public Square Strategies LLC, and a leading expert and strategist at the intersection of faith, politics and American public life. Michael was one of the youngest White House staffers in modern American history: he served in the White House faith-based initiative during President Obama's first term, where he led evangelical outreach and helped manage trafficking efforts.
Michael's book, Reclaiming Hope: Lessons Learned in the Obama White House gives an unvarnished account of faith inside the world's most powerful office, and an unprecedented insight into the most controversial stories of the last eight years.
He serves on the national board of Bethany Christian Services, the nation's largest adoption agency, and holds an honorary position at the University of Birmingham's Cadbury Center for the Public Understanding of Religion.
Mark Henshaw
CIA analyst and author of The Fall of Moscow Station and other spy novels
A decorated CIA analyst with sixteen years of experience and the author of The Fall of Moscow Station and other spy novels.
In 2007, Henshaw was awarded the Director of National Intelligence Galileo Award for innovation in intelligence analysis. A former member of the Red Cell think tank, Henshaw is the author of Red Cell, Cold Shot, and The Fall of Moscow Station.
A native of the great Commonwealth of Virginia, where he resides with his family. Having grown up surrounded by Jamestown, Colonial Williamsburg, Monticello, Mount Vernon, and an astonishing number of Civil War battlefields, he has an abiding passion for 18th and 19th century US history and gives the occasional tour of the Antietam and Gettysburg battlefields.

Author of This is Our Time: Everyday Myths in Light of the Gospel.
A blogger whose blog, Kingdom People, is one of the most read Christian blogs on the internet today, is also currently editing a new, theologically robust small group curriculum for LifeWay Christian Resources. A former missionary and pastor, Wax is a contributor to Christianity Today and other publications. His most recent books are This is Our Time: Everyday Myths in Light of the Gospel, Counterfeit Gospels, and Holy Subversion.
Carl Trueman
Westminster Theological Seminary Professor of Church History
Dr. Carl R. Trueman holds the Paul Woolley Chair of Church History and is Professor of Church History at Westminster Theological Seminary. He has written more than a dozen books, including Fools Rush in Where Monkeys Fear to Tread.
Dr. Trueman's academic interests include Reformation church history, including the life and work of men like Martin Luther and John Owen.
Dr. Trueman also writes online regularly at firstthings.com on contemporary issues such as religious freedom, identity politics, and the state of the church.
Janet Vestal Kelly
Former Virginia Secretary of State
Janet is a former Virginia Secretary of State and currently the Principal and Director of Government Relations for America's Kids Belong. An organization whose goal is to unite government, faith-based, business and creative communities to end the foster care and adoption crisis in the United States – state by state.
King's College Professor
Dr. Bradley is Associate Professor of Religious Studies at The King's College in New York City, where he also serves as Director of The Center for the Study of Human Flourishing and Chair of the Religious and Theological Studies program. Dr. Bradley is additionally a Research Fellow at renowned think tank The Acton Institute. He has published several books, including Black and Tired.

Recognized as an authority on issues of race, political economy, welfare policy, religion, hip hop, and youth culture, Bradley has appeared on Al Jazeera, C-SPAN, NPR, CNN/Headline News, and Fox News, among other news outlets. He has also published cultural commentary in a variety of periodicals such as the Atlanta Journal-Constitution, the Detroit News, and World Magazine.

Author, Pastor, and Founder of Classical Christian Schools in the U.S. and Iraq
Dr. George Grant is Founder of Franklin Classical School, where his weekly Humanities lectures manifest his passion for covenantal succession by raising up students to become the next generation of cultural and spiritual leaders. His vision is rooted in the lives of the Scottish Reformer, Thomas Chalmers, and the Christian Apologist, Francis Schaeffer. Dr. Grant is also pastor of Paris Presbyterian Church, founder of the King's Meadow Study Center, and founder of New College Franklin. He has authored dozens of books and hundreds of articles in the areas of history, biography, politics, literature, and social criticism. His work on behalf of the homeless, for international relief and development, for racial reconciliation, and for the sanctity of life has been profiled in such varied media outlets as The Wall Street Journal, Christianity Today, The Washington Post, and Focus on the Family, to name just a few.