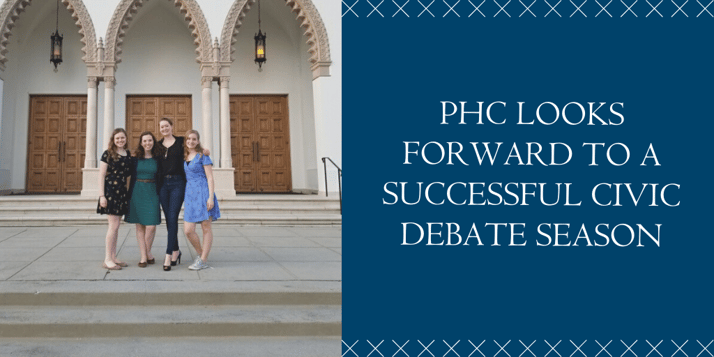 Four students traveled to Loyola Marymount University in Los Angeles two weeks ago to compete in the Lafayette West Civic Debate event. Bethany Loos, Emma Shipe, Emma Palmberg, and Julianne Kidd debated the resolution "Corporations should prioritize stakeholder value over shareholder value." Shipe/Loos earned recognition as Overall Team Finalists, with Emma Shipe as Negative Side Champion and Bethany Loos as Affirmative Finalist. Kidd/Palmberg were one position off being full-team finalists.
This successful weekend bodes well for further success in the months ahead. Debate Coach Ryan McDonald is taking nine teams to the Lafayette East Debate event in Washington, DC this weekend.
[READ: Catch up on how well PHC's mock trial teams performed at regionals!]
"I believe that these recent successes (thinking also of Lucas/Settle's quarterfinalist award in Atlanta in January) indicate that our college is ready to dive further into Civic Debate in the coming semesters," said McDonald. "I am thrilled to see what our students can achieve, and I am even more impressed to see them achieve those victories with edifying rhetoric and Christ-honoring winsomeness."
Ryan took over as Debate Coach in December, following Robert Snow's retirement. "It's been a pleasure to adopt the role of coach to these incredible students," McDonald added. "and it is a tremendous honor and privilege to carry on the legacy that Robb Snow so masterfully initiated and grew over his many years as head coach."
"Congratulations to the students and to debate coaches Ryan McDonald, Tyson Langhofer, and Aaron Kamakawiwoole on an outstanding tournament!" said Forensics Program Director Sue Johnson after their successful weekend in California.
----
PHC graduates have an unparalleled track record of success in forensics, law, and government. Alumni have become state solicitor generals, argued before the Supreme Court of the United States, and served in the White House in various capacities.
Click below to read more about the Forensics Department at PHC!