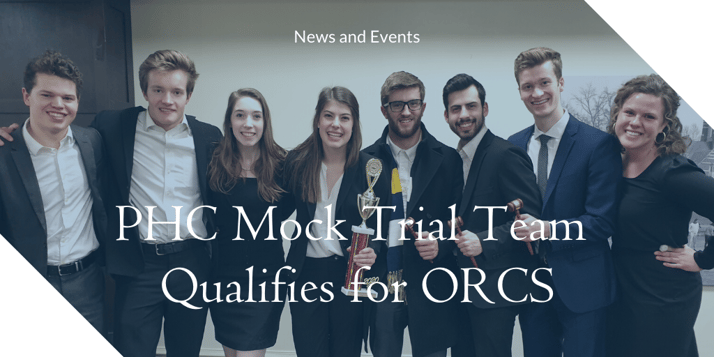 Two mock trial teams traveled from PHC to Richmond, VA last weekend to compete in the Richmond Regional Tournament.
"I'm thrilled to announce that our students brought home some hardware," Forensics Director Sue Johnson wrote in an email, referring to awards. Both teams performed well.
[READ: catch up on how well PHC's moot court teams performed at nationals!]
Twenty teams each competed for one of six bids to Opening Round Championship Series (ORCS), and PHC's Gold team earned one of those bids. After competing in tiebreakers to settle a six-way tie for second place, PHC's Red team narrowly missed receiving a bid. Red team, however, is in an excellent position to receive an open bid invitation to ORCS after regionals conclude.
Individual congratulations to Sam Zinkgraf, Matthew Donnelly, and Isaac Bock for recognition as "Outstanding Attorney" and Samuel Bock as "Outstanding Witness," and a big thank you to the students and coaches Christian Fernandez and Mackenzi Ehrett, as well as alumni volunteers Elizabeth Ertle, Sam Johnson, and Caleb Engle who assisted the teams in their preparations.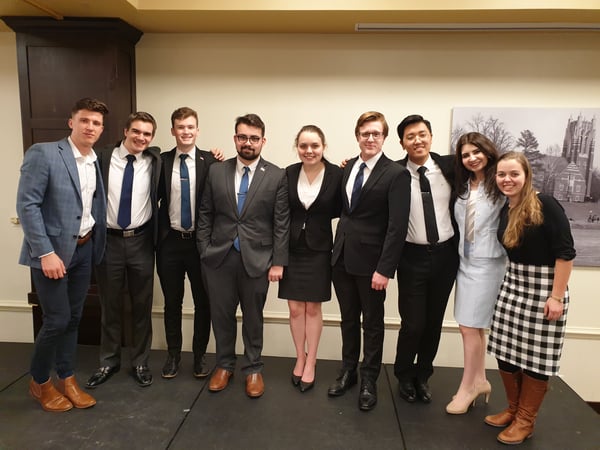 ----
PHC graduates have an unparalleled track record of success in forensics, law, and government. Alumni have become state solicitor generals, argued before the Supreme Court of the United States, and served in the White House in various capacities.
Click below to read more about the Forensics Department at PHC!