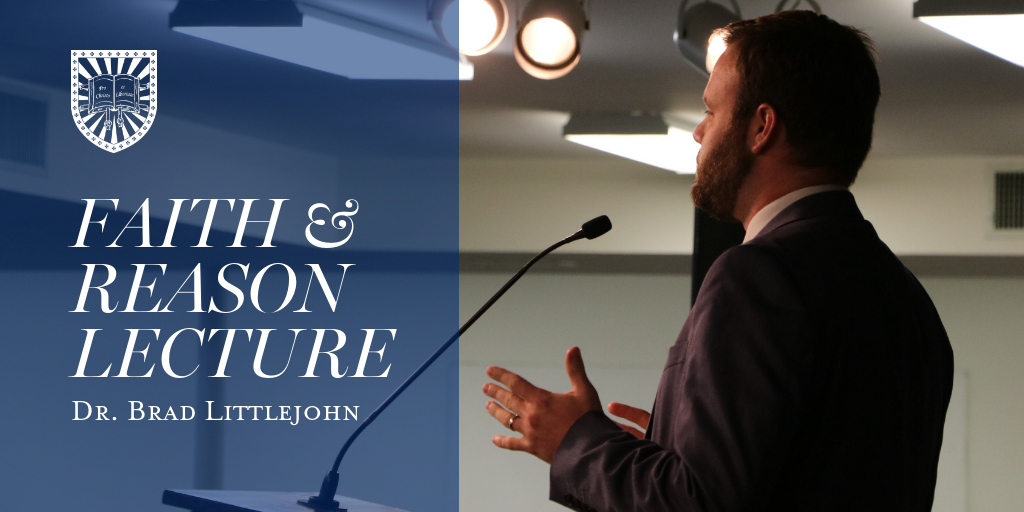 Dr. Brad Littlejohn delivered a compelling Faith and Reason lecture Tuesday, "Christ and Liberty: Retrieving the Freedom of a Christian in an Age of License," initiating a thought-provoking, campus-wide discussion on the nature and meaning of "liberty."
"Can we in fact be good Christians and good Americans at the same time?" he asked. Littlejohn probed at the apparent dissonance between "liberty" as described in Scripture, classical pagan societies, and modern American society.
True liberty, he posed, is an ordered liberty in pursuit of a higher good, practiced by those who actively participate in God's being. This definition flies in the face of the modern libertarian definition of liberty, which idolizes individual choice above all else.
[Watch a video of the lecture here.]
He also devoted a significant portion of the lecture unpacking the relationship between fear and liberty in the Christian life, quoting Martin Luther's The Freedom of a Christian. "This freedom is not license, an unfettered liberty to do anything, including sin—as Luther's Catholic opponents charged," he explained, "On the contrary, states Luther, with the sort of paradox that we have seen already in the older doctrine of liberty, 'A Christian man is the most free lord of all, and subject to none; a Christian man is the most dutiful servant of all, and subject to everyone.'"
Littlejohn exhorted students to pursue an ordered liberty that "frees us from fear" and invites others to "cultivate their own moral agency and seek the good."
After the lecture, students dispersed into small group discussions led by faculty members, and developed a handful of questions for Littlejohn to tackle in the afternoon panel session. Topics included the nature of American advertising, the multiplicity of Protestant denominations, the development of "rights" language, and more.
Faith and Reason lectures are one of the longest standing PHC traditions. One day each semester is set aside for a campus-wide event devoted to thinking deeply and exploring the Truth latent in God's created order.
To watch past lectures, visit our YouTube playlist here, or click here to watch Dr. Littlejohn's.
---