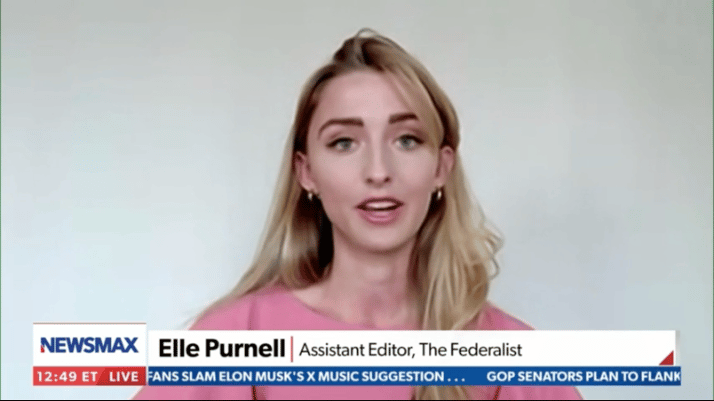 Alumna Elle Purnell (American Politics and Policy '21) recently appeared on NewsMax's "Newsline" to discuss the pro-abortion media's coverage of women publicly regretting their children's existence. Purnell is an assistant editor at The Federalist and formerly appeared on Fox Business discussing how differently her home state of Florida handled COVID restrictions versus where she was residing in Loudoun County, VA. You can follow her work on Twitter @_etreynolds.
Purnell interviewed on "Newsline" after publishing "Enough With Our Horrible Media Boosting Women Who Publicly Regret Their Children's Existence." Here she wrote that, "It causes nothing but pain to children for parents to air their dirty diapers—er, laundry—to a national media audience." She lamented that these children may one day find the stories of their parents openly "complaining that they couldn't get rid of that child."
"It's no surprise that this is coming from the rabidly pro-abortion corporate media," Purnell noted, "but it's disappointing none the less and it's tragic to see them air these complaints about precious children whose lives were thankfully saved and whose lives deserve to be celebrated." Purnell proceeded to note that the "real radical position" on abortion was supporting the idea that "women should be allowed to terminate the lives of their unborn children."
Watch the full interview here!
---
Patrick Henry College exists to glorify God by challenging the status quo in higher education, lifting high both faith and reason within a rigorous academic environment; thereby preserving for posterity the ideals behind the "noble experiment in ordered liberty" that is the foundation of America.