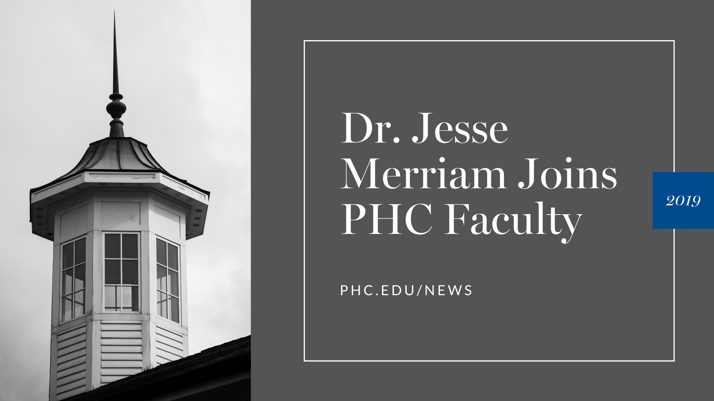 This article was originally published in Patrick Henry College's student newspaper, The Herald. Read the full issue here.
Dr. Jesse Merriam vividly remembers the way his wife screamed one night last July. It was late, their children were safely in bed, and he and his wife were catching up on work. Suddenly, he heard her scream—with excitement. She said she'd found the perfect job for him: a position as a government professor at PHC.
Seems like she was right. In spring 2020, Merriam will begin coming to campus every Tuesday to serve as a pre-law advisor and teach the American Political Institutions class. That summer, Merriam will officially join the PHC faculty full-time as Associate Professor of Government. He will teach Constitutional Law that fall.
"He's a highly qualified and accomplished scholar and teacher," said Dean of Academic Affairs and government professor Dr. Mark Mitchell. "He has both a J.D. and a Ph.D., which situates him perfectly to teach Constitutional Law. He has developed a very successful pre-law program at Loyola… he is committed to PHC's mission and has a desire to teach at a place where he can freely discuss his Christian faith."
The night his wife screamed about the opening at PHC, Merriam was in the process of applying for tenure at Loyola University Maryland, where he'd taught for the last 5 years. He liked his job, but out of curiosity, he asked his wife to send him the link.
He spent the next few hours reading about PHC.
"I was struck by its unwavering commitment to Christ, its small but highly talented student body, and its rigorous classical liberal arts curriculum," Merriam said. "That same night I also read several of Dr. Mitchell's essays, and I was delighted to find someone thinking through many of the same issues – such as traditionalism, local governance, and agrarian life—that interest me."
He emailed Mitchell the next day, and formally applied for the position about a month later. According to Mitchell, though many highly qualified people applied for the position, Merriam stood out.
"After a lot of prayer, conversations, and Skype interviews, we brought him to campus for a day. It became very clear that he was the one," Mitchell said.
Merriam says he "[loves] just about all areas of constitutional law," and has written extensively on the meaning of the rule of law, the various strands of American conservatism, and the value of local governance. However, his favorite and most-explored topic is church-state law, specifically laws that fall under the First Amendment's Free Exercise and Establishment clauses.
"I believe a sound understanding of the religion clauses is essential to making a pluralist republic like ours work…and obviously, as someone deeply committed to this country's Christian founding, I hold the subject dear to my heart," he said.
Merriam wants his students become genuinely interested in constitutional law, but he also hopes they'll understand the important truths that underlie their studies.
"I hope that I can have a lasting impact on students in demonstrating how our duties to family and community relate to our responsibilities as servants of the Lord," he said. "A professor can have a tremendous impact on young people by showing how these truths animate life at every stage."
Forensics Program Director Sue Johnson said she is looking forward to working alongside Merriam to incorporate Moot Court into his Constitutional Law curriculum.
"[Merriam] is highly qualified both as a pre-law advisor and faculty member," she said. "He has engaged in important research into constitutional law, and will bring a breadth of understanding and knowledge that will be of tremendous benefit to our students."
Merriam is also eager to further develop PHC's pre-law program. He has experience as an LSAT tutor, constitutional litigator, and a scholar with connections to many legal organizations. In addition to advising students, he plans to begin teaching a new course, Analytical and Legal Reasoning, in spring 2021. The class will explore various areas of formal logic and demonstrate how these concepts underlie legal reasoning. He initially introduced the class at Loyola to help students prepare for the LSAT and law school, and says it was "tremendously successful" there.
"I think PHC may already have the strongest pre-law program in the country, and I want to use all of my experiences, skills, and networks to make it even stronger," he said.
Merriam isn't just excited about new programs and classes—he looks forward to his move here as the next step in God's plan.
"The more I have learned about PHC, the more I have come to realize that it is my calling to teach and serve the students at PHC. Everything has fallen into place since that moment when my wife saw the posting," he said.
-----
Explore PHC's government program further...