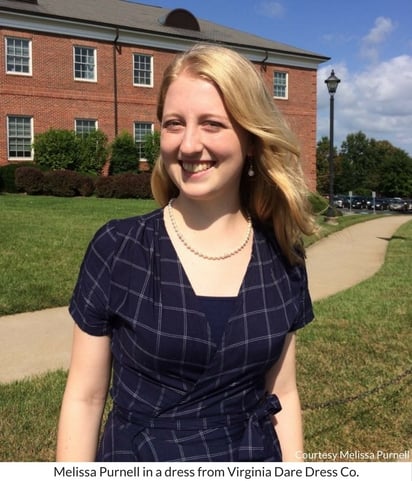 Melissa Purnell, a junior at Patrick Henry College, has always loved sewing and fashion. That's part of the reason why she was excited to intern at up-and-coming clothing company Virginia Dare Dress Co. in the summer of 2017.
But she was not laying out patterns or making stitches. As an Economics & Business Analytics major, her job was analyzing data so the company knew things like which dress style to advertise in what area, or why certain dress styles were being returned more than others.
The internship helped Melissa confirm that data analytics is what she wants to do in her future career—a career that PHC's Economics & Business Analytics (EBA) program is preparing her for.
She was drawn to the program because of its practicality and well-roundedness, but ultimately, the EBA program's emphasis on faith has been the ultimate "selling point" (pardon the business pun) for Melissa.
"In major business classes, we're memorizing Bible verses about how a good leader leads and focuses on God, not money," she explained. "You realize you'll be working with tons of money, and there's a temptation to cheat or put work first. But it's not the most important thing in your life."
One of the classes that has grown her both academically and spiritually is "Business Methods and Entrepreneurship" with EBA faculty member and PHC Executive Vice President Howard Schmidt.
[Related post: Meet Howard Schmidt, PHC's New Executive VP]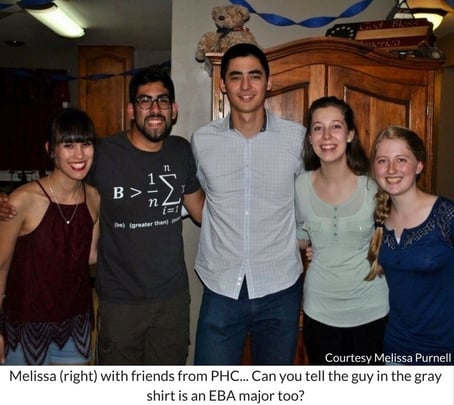 It was a big deal to take a class from someone like Schmidt who has decades of real-world experience, Melissa said (in fact, Schmidt spent the last twenty years as a senior executive at Lennox International, a global provider of HVAC and refrigeration products).
"The class was incredible," Melissa said. "It really is an MBA-level class… He gave us a business model and showed us how to use it, and he gave us tips on what a successful business person looks like."
Rigorous classes like Schmidt's "Business Methods" and Introductory Statistics with Dr. Michael Kucks prepared Melissa to enter the business world in the summer of 2017 for her internship.
[Related post: Personality matters and physics classes, according to Dr. Kucks]
Her interest in data analytics was cemented thanks to her time analyzing sales patterns and more for Virginia Dare Dress Co., which was founded by Rebekah Murray.
"Working with Melissa has been a wonderful help for my company," Murray said. "Thanks to her impressive data analysis skills, I've been able to make smarter decisions for both our marketing and manufacturing. I've enjoyed working with her on a personal level and appreciate the ideas and personal investment she brings to her work. As an entrepreneur, that is what I most look for in growing my team. PHC instills such a thoroughness and confidence in individuals that I hope to continue partnering with people from the school to grow my company."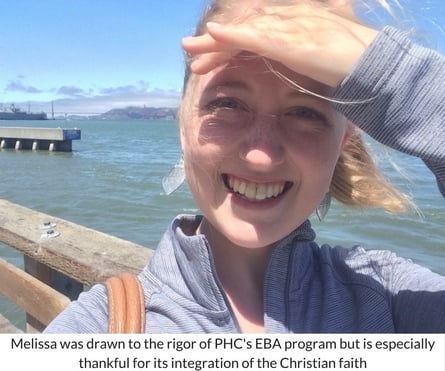 Melissa has always been organizationally oriented, but she has come a long way from being the elementary schooler who catalogued her picture books for fun.
Melissa sees herself working for a think tank one day, perhaps even doing work to help developing countries—something she was drawn to after taking the class "International Economics" with Professor Nathan Russell.
"In the economic world, we do know a lot of things, but we're not always listened to," she said. "I would love to work with developing countries and find out why they aren't growing."
Whatever she ends up doing, Melissa knows the EBA program is preparing her well.
"This program ties economics, business, and math together," Melissa said. "No other major does that."
----------------
We recently created a brochure complete with all Economics & Business Analytics program's details. Download it below to explore the program further, or visit the EBA website, and join us on our venture to change the status quo in higher education!