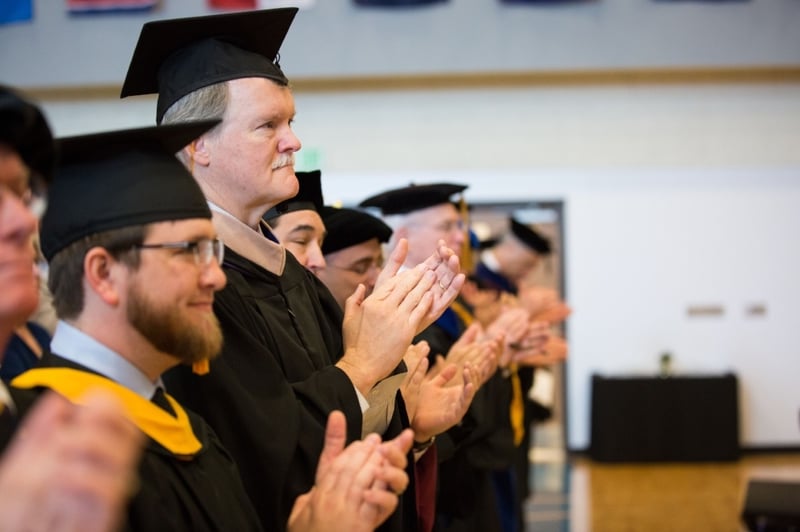 Two months ago, Howard Schmidt stepped out of a 35-year career in industry and into a dual role at Patrick Henry College - Executive Vice President and Professor of Business Analytics.
He'd spent the last twenty years as a senior executive at Lennox International, a global provider of HVAC and refrigeration products. The contrast between Schmidt's last position - chief executive of a quarter-billion-dollar company headquartered in Georgia - and his new one at a 300-student college in a small town couldn't be greater. However, Schmidt has been involved with PHC since its inception. He and his wife are major donors to the school, and he is a member of PHC's Foundation Board, Strategic Planning Committee, and Board of Trustees.
"The Lord clearly called us to leave the executive world and come serve at PHC," Schmidt said. He is serving in a dual role at the school because his gifts and abilities uniquely position him to both teach what he has learned and to enhance the PHC experience using his background as an executive.
In his role as Executive Vice President, Schmidt has joined the College's Executive Team and will serve the College and President Jack Haye in various initiatives. These include strengthening financial analytics and overseeing the growth of the school. Personally, Schmidt sees a path to having a student body of 800 students, a size to which Schmidt believes God has called the College.
Schmidt has also become a faculty member for PHC's most recently-added major. Economics and Business Analytics (EBA) first appeared in the College's 2014 catalog, and the first EBA students graduated in 2016. Current and future EBA students can look forward to the new internship and job opportunities that Schmidt is working to establish. To that end, he envisions creating an EBA council that involves local entrepreneurs. He also hopes to build a recruiting base for Fortune 500 companies and have recruiters visit campus to talk to students.
As an EBA professor, Schmidt will be working closely with economics professor Nathan Russell and EBA Program Director Dr. Michael Kucks. All three were heavily involved in developing the major. Together, they seek to create a one-of-a-kind economics program that will emphasize the PHC core curriculum in addition to giving students a heavy dose of economics, math, and business analytics.
Schmidt will teach upper-level EBA courses, drawing on both his years of business experience and his education. He has completed a BS in Mechanical Engineering from The Ohio State University, an MBA from Millsaps College, and Executive Education programs from Harvard Business School, Northwestern University's Kellogg School of Management, University of Maryland, and University of Tennessee. This fall, students have the opportunity to take his Business Methods and Entrepreneurship class. The EBA major elective has been offered only once before - in spring of 2016, former EBA professor Dr. Daniel Bennett taught the course and Schmidt made an appearance as a guest lecturer. Now, he has his own vision for the class.
"I'll be sharing a unique model that integrates all the business methods required to lead a successful growing company," said Schmidt. "At the same time, the class will be introducing students to various entrepreneurs with the intent of simplifying the complex equation of starting a company and removing the fear out of taking on such a venture."
EBA students can look forward to a challenging and rewarding experience in Schmidt's class and in their other major classes.
"Our hope is that in senior level courses, students will sample undergraduate courses at the graduate level, getting them spots in front of talent acquisition and putting them in a great place for impacting society," Schmidt said. "My desire is for the EBA program to be the number one program of its kind in America."