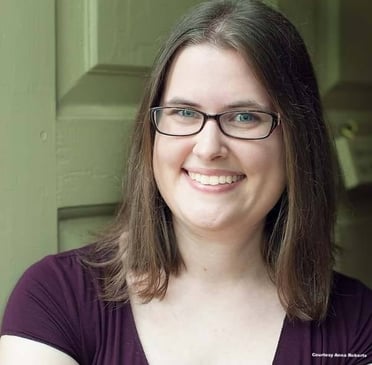 Professor Anna Roberts, a Patrick Henry College graduate, will teach United States History II during the spring semester of 2018 while Dr. Robert Spinney takes a sabbatical.
Roberts graduated from PHC in 2012 with a major in history.
Dr. Spinney and professor of history Dr. Doug Favelo enjoyed her 100-page senior thesis (about an African-American minister in the 1840s) so much that they use the thesis as an example of an ideal thesis for other history majors. Roberts also helped Spinney redesign several of his courses.
"She may have been the best history student I have had," Spinney said.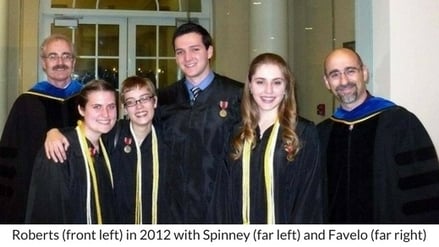 Spinney encouraged Roberts to pursue a higher degree, and after nailing a perfect score on her GRE, Roberts completed her master's in history in one year from 2015 to 2016 at the College of William & Mary.
Roberts works full time at Montpelier, President Madison's former residence as Developer Associate as well as volunteering at the International Rescue Committee tutoring refugees in English.
Roberts will continue working full time at Montpelier while she teaches U.S. History II.
After receiving confirmation for the teaching position at the College, Roberts threw herself into preparation.
"It's a bit of a whirlwind because I just found out in September that I would be doing it, but it is super fun," she said. "I enjoy curling up on the couch with a history book for a couple of hours."
History has fascinated Roberts since her childhood.
On family library trips, Roberts' three younger siblings would eagerly search the fiction section for the Boxcar Children books, while Roberts looked for something a little more serious. She especially love biographies written for children, and remembering enjoying a series called Childhoods of Famous Americans as well as Minty: A Story of Young Harriet Tubman. Her parents, siblings, and friends could always find her on her bed or on the living room couch with a book in her hands.
"There was the time I was supposed to be cleaning the upstairs bathroom, got engrossed in a book instead, and left the water running," Roberts recounted. "No one noticed my dereliction of duty until Mom spotted water coming out of the chandelier downstairs."
Both Spinney and Roberts are interactive teachers. Their teaching styles differ in that Roberts is a micro-historian while Spinney, according to Roberts, understands and communicates the larger picture first.
"For me it is about bringing what I can to the table, my interests and strengths," Roberts said.
"It makes me nervous, but I think the nervousness is driving me to do well preparing. I care about the College and Dr. Spinney, and I want to give them my best."
Roberts intends to stick with Spinney's familiar curriculum, while possibly adding another book to the required reading list. She began her preparations by reading Dr. Spinney's American history textbook. She then acquired a 20-book reading list from 1877 to the present.
Roberts attributes her fascination with African-American history to her adopted younger brother, who is biracial. Roberts has a keen interest in African Americans' experience in U.S. history and especially black-white relationships. As U.S. History II covers post-Civil War material, racial tension will be regularly discussed.
"I don't think the Church has done a great job addressing this issue and I think it is important for PHC students to be able to engage with the culture in a meaningful and informed way and also a Christ-like way," she said.
Spinney and Favelo are completely confident in Roberts' ability to engage in these discussions with the students.
"She lines up with what we as a college believe and endorse almost perfectly," Spinney said.
-----
If you think a history major might be right for you or a prospective college student you know...