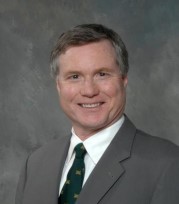 Former Northrop Grumman VP of Strategy Brian Morra spoke to PHC students Monday (Courtesy of Michael Kucks)
A liberal arts background can lead to a top job at a big corporation because it helps students become curious, ethical problem-solvers, said Brian Morra.
The former Vice President of Strategy for Northrop Grumman spoke to Patrick Henry College students at an Economics and Business Analytics event. Morra, a history major, worked his way into the defense industry after he left the Air Force in his early 30s.
"The best personal attribute I had was intellectual curiosity," he said. "I was just willing to ask dumb questions."
In describing his rise to the top of the global aerospace and defense technology company, Morra said that large tech corporations like Google are hiring liberal arts majors. Companies are discovering that liberal arts majors are good at solving problems, a key skill in high-level executive positions.
Morra was an intelligence officer before working at Pacific Sierra Research Corporation, a company that sold defense equipment and technology to the military. This company was later bought by a bigger company, which was later bought by an even bigger company. Morra found himself working for giant corporation Northrop Grumman.
Morra advised students to value ethics in the business world. Companies only consider ethical applicants, he said.
He advised students what personal qualities to exhibit in order to get hired.
"I can't stress enough how important listening is," he said.
Students found his lecture informative and helpful.
"It was really interesting to hear the perspectives of businesses from someone who actually had started in a small company then ended up in a massive corporation," sophomore Daniel Fierer said.
"I really appreciated the emphasis on practical skills that employers are looking for," sophomore Erin Kondak said.
There is a substantial vacancy in the defense industry because baby boomers, hired in droves during the Cold War, are retiring, Morra said. Few workers were hired to replace them in the '90s due to budgeting concerns, leaving a huge workforce gap. Northrup Grumman expects to hire 25,000 people in the next few years.
The state of the defense industry concerns Morra.
"The Air Force today is by far the oldest Air Force we've ever had," he said.
Pilots are flying airplanes more than two generations old, he said.
Morra emphasized China's reemerging as a world power. He is also concerned that Russia may have meddled in the U.S elections, and, according to him, the United States has made no major response.
Morra is concerned with the private defense sector as well. During the 1990s, the economy was booming, there were numerous startups, and huge amounts of money were invested in new companies, he said. Today, things have changed. He claims that increased government mandates and regulations stifle small companies and startups.
"I thought it was good," said Dr. Michael Kucks, EBA Director. "I couldn't imagine a better presentation."
--------------------------------------------------------------------------------
Reporting courtesy of PHC's The Herald.