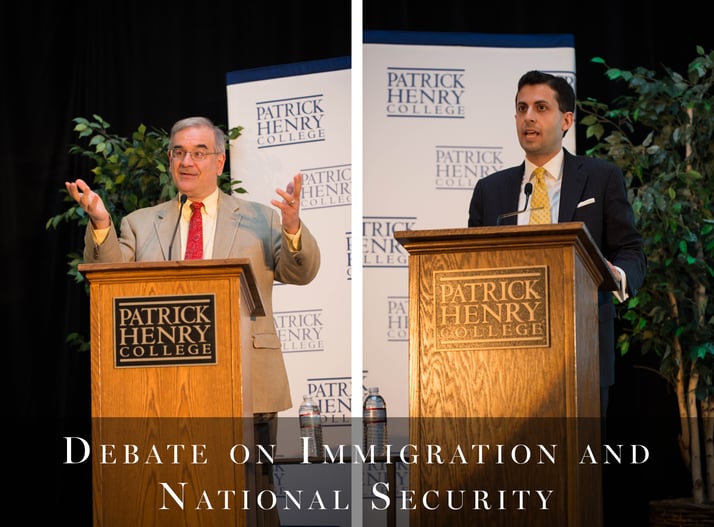 Mark Krikorian and Alex Nowrasteh debated at Patrick Henry College Wednesday (photo credit: Christine McDonald)
Patrick Henry College's Millennium Society hosted a debate on Immigration and National Security moderated by Government Department Chair Dr. Mark Mitchell on March 29.
Click here to watch a video of the debate.
Alex Nowrasteh, immigration policy analyst at the Cato Institute, took the affirmative position on the question "Do the moral duty and economic benefits of taking in additional refugees outweigh the potential security threat?" Mark Krikorian, Executive Director of the Center for Immigration Studies, took the negative.
"The point of borders and an immigration policy is to protect the country, our national security, our American workers, our finances, and our nation's culture," Krikorian said. "Quite simply, having open borders means not having a country."
He argued for taking a more limited approach to immigration by enforcing immigration policy and keeping America's borders closed to refugees. The United States should use its resources to help more refugees where they are rather than spend more on less refugees to transport them to the United States, he said, and refugees should only be brought into the United States in "emergency situations."
"We should have free immigration because it is good for America," Nowrasteh said. "It increases the size of the economy, increases economic growth, and our traditional openness to foreigners is in line with the traditions of the United States here."
He argued for allowing an open border and cutting back on harmful government programs.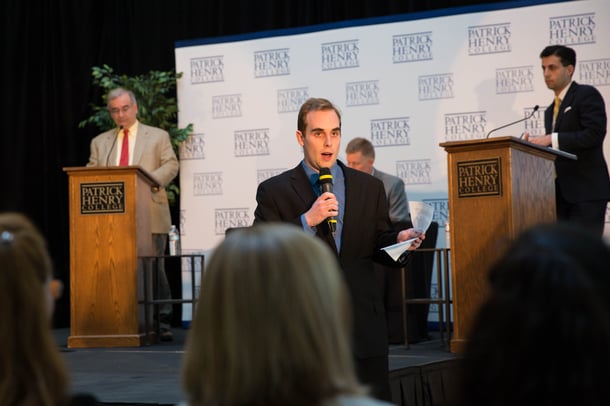 Millennium Society President Daniel Cochrane introduces the speakers (photo credit: Christine McDonald)
Students that attended the debate found that both sides presented compelling points.
"I agree with Nowrasteh's argument," said sophomore Daniel Cochrane, who is the president of the Millennium Society. "I agree that the government does not have a moral obligation to care for immigrants, but that it is the obligation of individuals in a community."
For some students, the debate helped their understanding of both sides but did not change their opinions.
"I agree with the point made by Krikorian about how America can use our funds to help refugees where they are, instead of only allowing some into our country and neglecting the rest," said sophomore Seth Lucas.
When arranging for this debate, Cochrane had three goals in mind: for a clash of ideas to start a conversation, to get students engaged in a relative topic, and to get the community involved. Many members of the public attended the event, including debate teams from local high schools Loudoun Valley and Woodgrove.
"We definitely accomplished all our goals, especially our goal of starting a conversation," Cochrane said. "According to a poll taken before and after the debate, about 10 percent of those in attendance had their opinion changed. I believe this debate was a success."
--------------------------------------------------------------------------------
Reporting courtesy of PHC's The Herald.