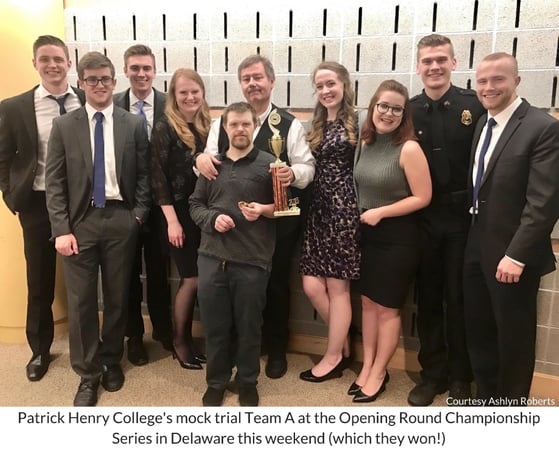 Patrick Henry College is going to the American Mock Trial Association's National Championship!
PHC's Team A had a historic performance when they won the Opening Round Championship Series (ORCS) tournament on March 10-11. PHC has excelled at ORCS in years past, but this is the first time a PHC team has swept the entire tournament.
"This is a really good team," said mock trial coach Dr. Frank Guliuzza. "I think they're one of the best teams in the country."
The team rose above its competitors, including teams from Rutgers University, the University of Virginia, and the College of William and Mary, to finished with a 7-1 win-loss record at ORCS, which was hosted by Widener University Law School in Delaware. PHC's Team B also competed at ORCS and had a 4-4 record.
"The whole of the PHC mock trial program is excited for our school to be represented at
the championship tournament," said junior Cooper Millhouse. "It is the culmination of a year of hard work and dedication."
PHC will send a team to compete to be the best collegiate mock trial team in the country at the National Championship Tournament, which is from April 20-22 in Minneapolis, Minnesota. PHC sent a team to the national championships in 2016 but just barely missed nationals in 2017 after losing a tiebreaker round at ORCS.
"It's a wonderful opportunity we've been given and an incredible blessing God gave us," Millhouse said. "To know we have successfully represented the school is a wonderful feeling."
Now, PHC is awaiting the release of the championship case, which is brand-new for the tournament. The team members selected for nationals will pore over the details of the case and create arguments under the guidance of Dr. Guliuzza.
The complete list of teams PHC will face is to be determined, but it looks like Stanford University and the University of California-Los Angeles will be some of their competitors.
So what does PHC have to do to bring home the national title?
"The simple answer is just to beat everybody that we hit," Dr. Guliuzza said. Good luck, PHC!
---
Do you know that participating in debate can benefit students in areas from academics to friendship? Learn more by clicking the button below: