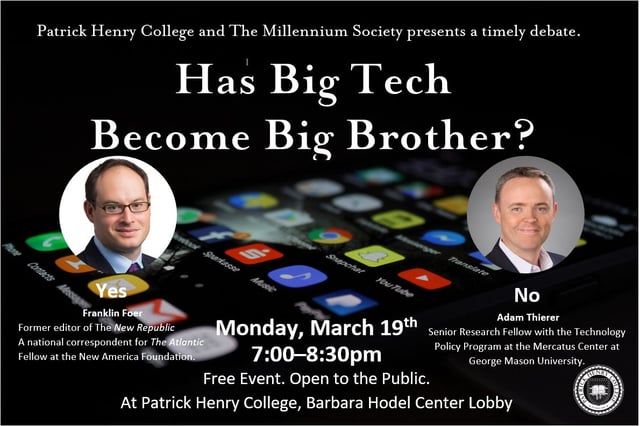 Patrick Henry College is once again proud to host a Millennium Society policy debate on the ever-controversial role of technology in American society. It will be March 19 from 7:00 p.m. to 8:30 p.m. in the Barbara Hodel Center Lobby.
"Has big tech become big brother?" is the question of the night. Frank Foer of The Atlantic will represent the affirmative case; George Mason University's Adam Thierer will be arguing for the negative.
This debate will further explore whether competition, free speech, and privacy are endangered by the rising dominance of tech giants like Google and Amazon. Should the government further intervene to prevent these companies from using their size to reduce competition and censor political speech?
It is free and open to the public.
Foer, former editor of The New Republic, is a now staff writer The Atlantic. The New York Times named his recent book World Without Mind: The Existential Threat of Big Tech a notable work of 2017.
Thierer is currently a senior research fellow at George Mason University, where he works with the Technology Policy Program. He has written and edited seven books on issues related to mass media, the Internet, intellectual property, and more.
The Millennium Society's immigration policy debate last spring was tremendously successful. This year's event is projected to be similarly well-received.
We look forward to seeing you there!
----------
PHC has a host of student organizations dedicated to corporate learning, community development, and fun. Check them out below!