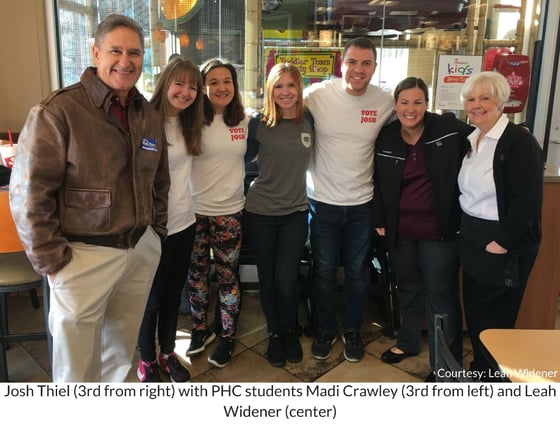 Josh Thiel won a seat on the Leesburg Town Council in a special election on Feb. 6, and Patrick Henry College alumni Andrew Mowry and Benedict Ciavolella as well as many PHC students were proud to have worked for his campaign.
Because this was a special election, it was a challenge to get voters to turn out to vote for Thiel in the town of Leesbug, which is 15 minutes away from the College in Purcellville, Virginia.
PHC junior Leah Widener, who worked for the Loudoun County Republican Committee during the last election cycle and volunteered for Thiel during this election, explained that many members of the community often don't know about their local special elections despite their significance.
The day after newest council member Vanessa Maddox took her seat in November, Councilman Ken Reid submitted his resignation, leaving a new vacancy. Thiel, who was runner up to Maddox for the council seat in the general election, defeated opponents Gwen Pangle and Neil Steinberg for the seat.
As a member of the council, Thiel hopes to address the road issues causing traffic congestion as well as the double tax that members of the community are forced to pay to both the county and the city.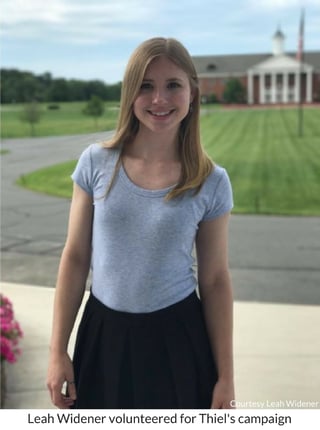 Though ballots are significantly smaller during a special election than they are during the general elections, voting during special elections is just as important. Leah explained that the majority of special elections are for local officials, as Tuesday's election was.
"When voting in local elections, you are voting for someone who will affect your daily life," Leah said. "[A lot of special elections] are decided by a couple hundred votes, so when you go out to vote in a special election, it makes a huge impact."
Very few people voted in the election on Tuesday as compared to the turnout during presidential or even off-year elections. According to poll stats, 12,436 people voted in the Town Council election in November, whereas only 3,246 people voted in this special election.
"Josh's campaign win shows that a smartly coordinated and targeted campaign triumphs over partisan talking points in a low turnout race," said alumnus Andrew Mowry ('15), co-owner of Phalanx Media & Consulting and Thiel's campaign consultant and manager.
PHC sophomore Madison Crawley is an American Politics & Policy student who volunteered for Thiel's campaign in November.
"It's hard to get people to vote in the bigger local elections, and it's even more challenging to get people to once again go out into the cold to vote just for this one town council seat," Madison said. "The biggest thing is inspiring people to get involved with politics and to care about it, no matter what side they're on or what party they're voting for."
--------------------------------------------------------------------------------
Reporting courtesy of PHC's The Herald. Click the button below to learn about more PHCers who are making a difference in politics!