As election day draws nearer and Virginia prepares to meet its new governor and representatives, Patrick Henry College juniors Ian Frith and Leah Widener are just warming up.
Ian is president of the PHC College Republicans, and Leah is field operations director for the Loudoun County Republican Committee (Loudoun County is home to Purcellville, where the College is located).
For the past several weeks, Ian and Leah have been hard at work recruiting volunteers for election day on November 7, when voters can cast their ballots for Virginia's governor, lieutenant governor, attorney general, and several house delegates in Loudoun County.
Ian has been working for Republican delegate candidate Subba Kolla, who is up for the 87th district against Democrat John Bell. Ian plans to continue working for Kolla on election day.
He would like to see other PHC students doing similar volunteer work on Tuesday. For the past few weeks, he has been connecting willing students with the campaigns and organizations who need volunteers. So far, Ian has matched 20 students with various volunteer opportunities.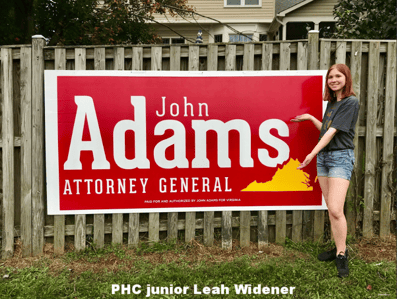 Leah, as field operations director, has spent the semester planning door-knocking sessions. Her job is to help pick a precinct to campaign for each week, cut up that precinct into neighborhoods and walkbooks which tell each volunteer the houses to visit, find volunteers, and give those volunteers their assignments.
Because of her job, she has her finger on the pulse of what races are in the bag and which ones are going to be close.
"Josh Theil for town council is in a pretty tight race, as are all of the statewide candidates," Leah said. "The governor and lieutenant governor races are going to be close."
Both Ian and Leah express how important it is for everyone to vote. Leah believes that too many people take for granted the privilege Americans have to vote and hopes to see that everyone takes the opportunity offered to them.
"[Consider] the duty you have as an American citizen to make your voice heard," Ian said.


--------------------------------------------------------------------------------
Reporting courtesy of PHC's The Herald.