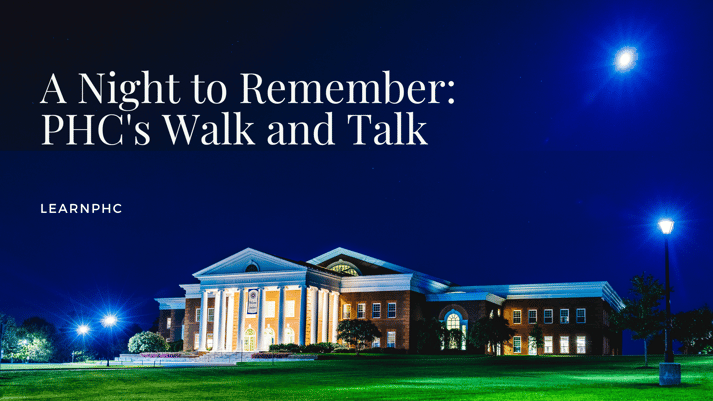 The Walk and Talk has been a PHC tradition for many years. Multiple times each semester, students gather late in the evening to walk around Patrick Henry Circle (otherwise known to PHC students as the Farris Wheel, named after PHC's Chancellor Emeritus, Dr. Michael Farris) and get to know a randomly-assigned fellow student.
I remember my first Walk and Talk during Freshman year. On a warm day in August, I walked out to the front of the Barbara Hodel Center to congregate with other students. I had heard all about wonderful memories and friendships formed during previous Walk and Talks, and I was eager to have the same experience. As I glanced around, I saw a good mix of students from all classes, though the freshman and senior classes had the most representatives.
As the leaders called everyone's attention, all eyes fell on the open guitar case filled with names written on tiny pieces of paper. The process was simple: they pulled two names at random, and the newly-assigned partners would find each other and begin walking around the Farris Wheel.
When my name was called, I managed to find my partner and we began to walk. We moved toward the large group making its way around the Farris Wheel and slipped into an open spot. After completing preliminary introductions, we landed on two subjects we both loved – history and literature. As I listened intently while my partner talked, I could not help but noticed the low hum of voices around me, which was occasionally interrupted by peals of laughter.
After a while, some pairs began to break off, but the majority continued walking for almost an hour. Before we parted ways, my partner and I exchanged contact information so we could arrange to have lunch together.
It was a perfect night. The moon brightly lit our way, the humidity had left, and I had a made a new friend.
Want to learn about other student-led activities? Click below!