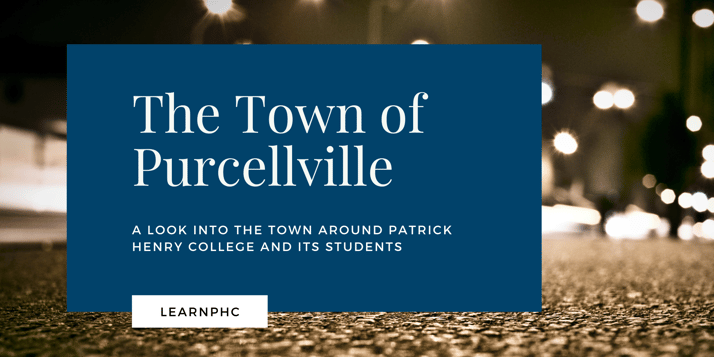 Patrick Henry College is located in the Northern Virginia town of Purcellville. Some might say Purcellville is "sleepy," "quiet," or "small," but for the students at Patrick Henry College, it's "advantageous."
One of the Safest Towns in VA
According to the United States Census Bureau, Purcellville Virginia has a population of roughly 5,000 people. In other words: it's small. The police station and the fire department are less than a five-minute drive away from any given spot in town. Another report notes that the crime rate in Purcellville is 73% lower than the national average.
Even if something unfortunate were to happen, members of the Patrick Henry College community have a good standing with the local first responders. Moreover, because Patrick Henry College is such a tight-knit community, practically every student can recognize all of their classmates. No one is without friends to reach out to in case of emergency.
Never Run Out of Things to Do
The Washington and Old Dominion trail is a historic 40-mile multi-purpose trail that starts in the center of Purcellville, just a short walk from campus, and ends in Alexandria, Virginia.
The area has a number of other famous attractions for the students to enjoy. They include Arlington Cemetery, Harper's Ferry, old town Alexandria, and more. Northern Virginia is crawling with things to do and sights to visit.
[READ: The Can't-Miss VA Landmarks to find out what spots you should visit while you're in the state!]
Visit the Nation's Capital
Purcellville is only 50 miles outside Washington, D. C. This gives students a wonderful opportunity to make connections and land elite jobs and internships. Many have interned at the White House and many more at similarly prominent institutions.
While D. C. is a great source for students looking to go into government, law, journalism, and economics, it is also a great city to explore and one that always has something going on.
It's within convenient proximity for those interested in what the capitol has to offer, but it also quite removed from PHC itself. Purcellville is close enough to offer students access to Capitol Hill, but it isn't enveloped by the fast-paced, congested life that so often comes with cities.
At the end of the day, Patrick Henry College is blessed to be where it is.
______
PHC graduates think clearly, communicate persuasively, and are best equipped to serve Christ faithfully. PHC exists for Christ and for liberty.