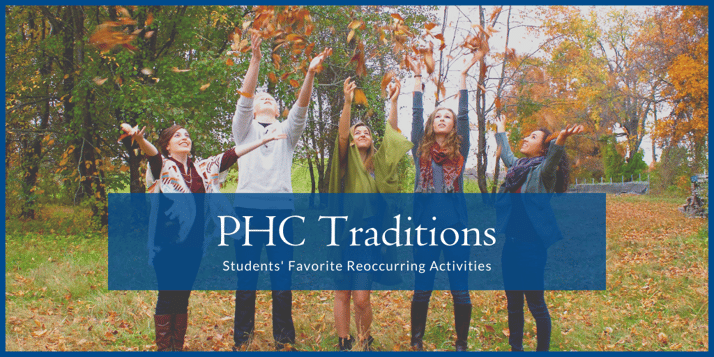 Every year, PHC students participate in traditions that are unique to the school. Whether it be crazy sports events or throwing people in Lake Bob, students like to have fun. Get a taste for what it's like to live on campus through these exciting PHC traditions!
"Bobtism"
Watch out men of PHC! If you and your girlfriend decide to put a ring on it, you run the risk of getting dunked in Lake Bob. After the young couple announce the engagement, a group of men will ambush the bachelor, swoop him up, and march to the flag pole to pray over the couple. After a time of thoughtful prayer, they carry their victim to the middle of Lake Bob and drop him in.
Friday Chicken Tenders
Every Friday, students and faculty wait in a long line to get chicken tenders and mac n' cheese. Fridays are always a cheerful day to begin the weekend, but the delicious crispy tenders brighten it even more! Shoutout to PHC's dinning hall staff and partner Bon Appétite!
Dorm Game
Once or semester, PHC's male dorms Red Hill and Oak Hill compete in an epic game of flag football! The rest of campus watches the game with with great anticipation, wearing their favorite team's colors—black for Red Hill and white for Oak Hill. Check out PHC athletics for more on organized sports!
Panera Bread in Barbara Hodel
On the first Thursday of every month, Panera Bread delivers its baguettes, bread bowls, and pastries for PHC students to enjoy. The bread is a day old, so they can't sell it in the restaurant, but it's still delicious. PHC students receive an All Student Email announcing the arrival of the bread and flock to Barbara Hodel Center lobby for a nice treat.
Valentine's Day "YouWho's"
One of the funniest PHC traditions is the "YouWhos" fundraiser hosted by the Model UN team every Valentine's Day. YouWhos are little notes that students write and pay to have delivered by cupid (aka an upperclassman wearing a bedsheet toga over the rest of his clothes) and dramatically read in front of everyone in the dinning hall. For a special price, cupid will propose with a ring-pop to your faculty member of choice. This tradition leads to many hilarious escapades!
Coffee Shop Concert
Instead of drinking lattes, PHC students prefer to provide a break from studying and classes by hosting a coffeeshop concert. Students audition and sing originals or perform covers of popular music. The accompaniment is always live and is a great way for PHC musicians to showcase their talent while providing nice music for others to enjoy.
Walk and Talks
Even though PHC is a close-knit community, it can be hard to get to know some other students. Walk and Talks are a PHC tradition to help remedy this problem by randomly pairing together two students. The pairs walk around Patrick Henry Circle to break the ice. The hilarious part is that pairs are selected by drawing names out of an old microwave. It's definitely a great way for students to make new friends!
Snow Days
During the long winter months, the PHC campus is transformed by snow. However, that also means that the roads and walkways are icy. On these occasions, PHC students get snow days where classes are cancelled and they can enjoy getting cozy inside or chucking snowballs at their friends. The first snow day of the year is marked by a student-wide poetry competition that takes place over the general student email group.
______
Click below to read more about the great liberal arts curriculum PHC has to offer!