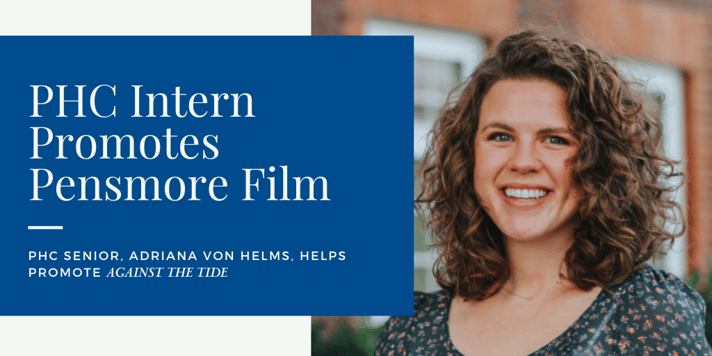 Senior Adriana von Helms currently interns for the Pensmore Foundation, marketing the upcoming film Against the Tide: Finding God in an Age of Science.
This opportunity provides Adriana first-hand experience developing promotional material for the movie, website layout, and marketing strategies. She is learning how to build websites and employing new graphic design skills for tweaking film stills and fonts using InDesign, Photoshop, and other software.
"In my Journalism program, I never thought I'd be looking up movie posters of previous Oscar nominees," Adriana said. "I certainly never anticipated being on conference calls with marketing agencies either. It's exciting! My eyes have been opened to the film industry, and I keep seeing the intricate ways marketing and storytelling go hand in hand."
PHC's Journalism program prepares students to tell stories—and to tell them well—within the newsroom and beyond. PHC graduates are published in the New York Times, USA Today, Washington Post, WORLD Magazine, and appear regularly on Fox News and CNN.
"What makes the difference is that I believe in what I'm marketing," Adriana said. "Working on this film has pushed my understanding of Christ in relation to science—compelling me to see how God's handiwork is clearly woven through the tapestry of the world we live in."
In Against the Tide, Dr. John Lennox—Oxford professor of mathematics, renowned speaker, and author of God and Stephen Hawking and Can Science Explain Everything—tackles the question: Do science and history refute the Christian worldview?
For this project, John Lennox teamed up with Kevin Sorbo—a veteran Hollywood actor and director known for his lead roles in Hercules, God's Not Dead, and Let There Be Light. Together, Lennox and Sorbo journey from Oxford to Jerusalem, tracing the intersection of science, history, and the Gospel. As Lennox challenges the world's most renowned atheists such as Richard Dawkins, Christopher Hitchens, and Peter Singer, he stands firm: "Properly understood, the evidence inexorably points to the existence of a creator God."
Upon graduation, Adriana hopes to further pursue marketing and social media management. But for now, she is diligently working to spread the word about Against the Tide, set to release in theaters on November 19, 2020.
Patrick Henry College students are cultivating God's truths in a way that impacts society as a whole.
______