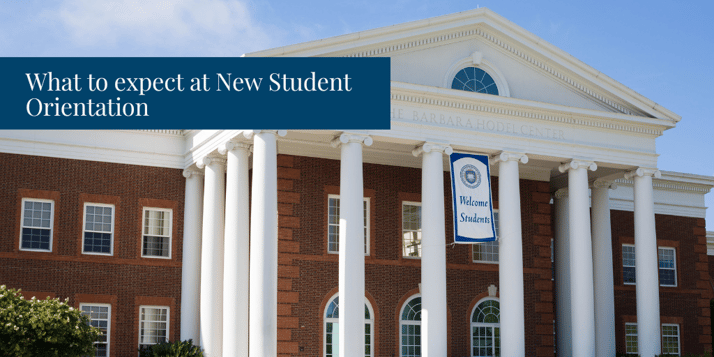 We are very excited to meet our incoming freshmen and their families during Orientation this year! From move-in day to the last event before the school year officially begins, we want you to know what to expect from the moment you arrive on campus.
If you are an incoming student—welcome! You are about to embark on a grand adventure. We are a tight-knit community that shares the common pursuit of the good, the true, and the beautiful. At PHC, you will learn from incredible professors who are passionate about what they teach and who are invested in walking alongside you as you begin this new chapter. You will work through the 63-credit core and learn how common experiences can grow people together.
Here, you will worship the Lord with the entire student body, faculty, and staff every Monday, Wednesday, and Friday. You will have the opportunity to forge friendships that will last a lifetime. Most of all, you will grow in your relationship with the Lord, learn to love Him more, and humbly walk the path that He has set before you.
If you are parents of incoming students, we are humbled by the trust you have placed in us during these critical years. You probably have heard us talk about our three institutional distinctives, and now we will show you how we live it out. You will meet the faculty and staff who will carefully mold your student's mind to turn toward the good, the true, and the beautiful.
At PHC, we will continue the work you began, not seek to tear it down. Here, your student will find like-minded peers as they seek the truth together. Here, your students have a safe place to begin branching out on their own, to find the vocational calling God has on their lives.
Here are some practical things you can expect throughout the week:
1. Free time to spend with your family and new friends
While we have a full schedule of activities, we intentionally set aside time for you to spend with your family, explore the area, and make new friends. Many students and their families will go out to dinner with their roommates on the first night.
You can purchase and pick up school books from the PHC Bookstore—it will be fully stocked with branded merchandise, school supplies, and more!
2. Informational lectures
At Orientation, you will have the opportunity to learn more about the college. Freshmen, you will learn how to navigate campus life. From safety tips to a library tutorial, we make sure you have all the tools you need to launch successfully into freshman year. You might even make a couple of friends along the way!
Parents, you will have the opportunity to hear from the College's leadership regarding PHC's history and goals. If you have any questions for the leadership team, you will have the opportunity to ask them!
3. Prayer and closure
Saying goodbye can be hard, and we understand that. To help provide closure and space to breathe, we host a banquet for incoming students and their families. After a message from President Jack Haye, parents have the opportunity to pray over their students. Students who do not have parents attending will be prayed over by a staff or faculty member. After the parents leave, the Resident Assistants (RA) will lead the freshmen in a time of worship and prayer on the steps of the Barbara Hodel Center (BHC).
We're looking forward to seeing you soon!
----------
If you haven't already, take some time to explore the Fall Orientation page!
Learn how PHC stands apart from other Christian liberal arts programs.
Patrick Henry College exists to glorify God by challenging the status quo in higher education, lifting high both faith and reason within a rigorous academic environment; thereby preserving for posterity the ideals behind the "noble experiment in ordered liberty" that is the foundation of America.