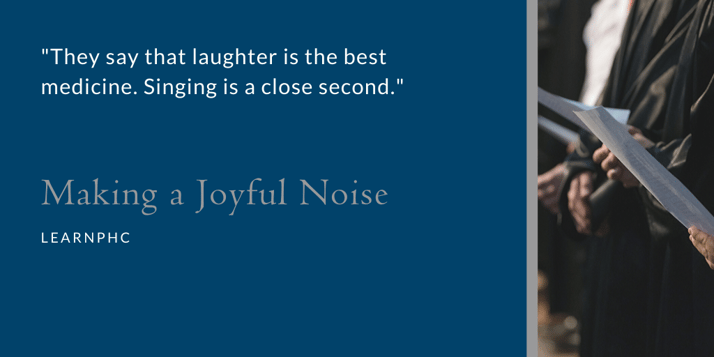 They say that laughter is the best medicine. Singing is a close second.
The Joy of Chorale
Chorale's entire purpose is to glorify God with our voices, so participating in Chorale provided me with a daily reminder of my dependence on my savior. In PHC's academic environment, one that rigorously prepares you for the adult world, it is easy to become hyper-focused on school. Something simple like Chorale forces you to take a moment to praise our Lord. Taking an hour each morning to sing praise to Him was a habit that kept me near to Him in the midst of stressful seasons.
The Joy of Family
Chorale provided me with a welcoming community that blessed me with an outpouring of love. I found a family. We joined together to share in mornings of praise with one another. Whether we were practicing our songs, running into one another in the hallways between classes, getting ready for performances, or even playing games at Chorale orchestrator Professor Appleton's house, I always knew that I had a group of friends who I could count on.
The Joy of Community
God used the chorale to surround me with a crew of Christian believers who continually prayed and supported each other through whatever challenges we faced. The blessing that chorale has been is one I thank God for every day. It has truly allowed me to raise a joyful noise to the Lord.
About the author: Beckett Millhouse is a sophomore at Patrick Henry College. Born, raised, and still living in Purcellville, Virginia, he enjoys playing guitar, creative problem solving, and debating politics and philosophy. He hopes to graduate with a degree in Government specializing in American Politics and Policy and eventually move into public service as a federal employee specializing in policy analytics.
______
Listen to the chorale's most recent Christmas Celebration at Lessons and Carols!