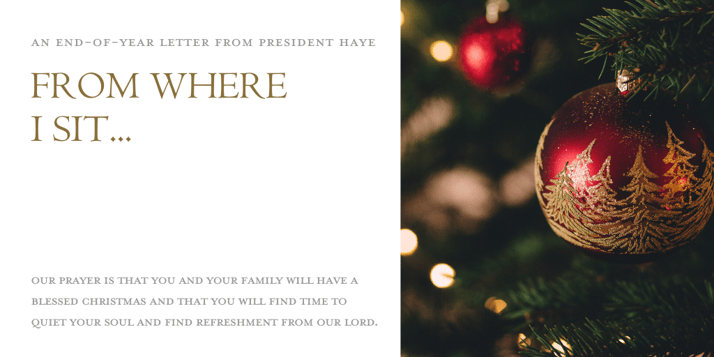 The first snow of winter usually comes with great anticipation. It is also a great reminder how the same event can be viewed through so many different lenses. Children (and college students!) watch the skies and pray for a day off from school to have snowball fights, make snowmen, or perhaps even find something they can use as a makeshift sled. To others, the first snow means the anticipation of a tangle of traffic and a slow commute. To yet others it's a quiet reminder that a new season has begun, one heralded by a soft white blanket that has been laid gently (hopefully) over the landscape creating a quiet that is like none other: the quietness of snow.
A Quietness
Those living in the city have perhaps the most dramatic contrasts as snow begins to fall. Familiar sounds that have become identified as the white noise of the city start to become strangely muted, a quieting that can be initially disorienting as it stirs us from our routines to notice our surroundings in a new way. Author Anne Sexton summed it up well when she wrote: "The snow has a quietness in it; no songs, no smells, no shouts or traffic. When I speak my own voice shocks me."
As I write this from the Patrick Henry College campus in Northern Virginia, I have a view from my window that allows me to see students scurry from buildings with a spring in their steps as they scoop up snow to participate in impromptu skirmishes before diving back into the serious business of Comparative Political Theories, Western Civilization, English Literature and Macro Economics. At least for a moment, they too are captured by changes that have been brought by the quietness of snow.
An Interruption
Watching the students interrupt their hurried pace to revel for a bit is a great contrast to how we as adults often bustle through life with schedules so full that we have little time to even notice changes that may have happened around us. We experience disruptive moments that provide at least the potential for pause and reflection, but we tend to view them as complications, as nuisances—as things to be managed through as quickly as possible. We have places to go ... people to see. But what if changes that come into our lives are an invitation to turn aside and discover God in the midst of the disruption?
A Pause and A Call
Moses experienced such a disruptive moment when he encountered the burning bush in the desert. The sight of a bush ablaze but not consumed certainly captured his attention! But it wasn't until he stopped and turned aside that God spoke to him from the midst of the bush. Exodus 3:4 records, "When the LORD saw that he had turned aside to look, He called to him from the midst of the bush and said, 'Moses, Moses!' And he said, 'Here I am.'"
Did you catch the important sequence of events? God did not speak to Moses until he had turned aside to look. God had provided the opportunity for an encounter but waited for Moses to stop and turn aside before speaking to him.
Our move to Virginia to become PHC's third President was the result of such a disruptive moment. Having served for seventeen years on the PHC Board of Trustees I was enthusiastic about both the mission and potential of the college. The call from the Search Committee asking if we would pray about coming as President, however, began a journey that was unanticipated by our family. But as with all disruptive moments, we had to decide how we would respond.
Our Turn To Answer
Would we bustle on, locked in on the GPS coordinates of our lives that existed five minutes before that phone conversation or would we turn aside and see how God might be speaking? The next few days of "turning aside" gave the confirmation that everything was indeed about to change. A new season was on the horizon.
How many times do we go through life with invitations to encounters with God happening in our peripheral vision but never take the time to turn aside to hear what the LORD may be saying? The busyness of the Christmas holidays, for example, can find us moving hurriedly from one event to the next while missing encounters with God because we're just simply too busy to slow down and notice. There are often stories that are being written somewhere to the right or left of the straight line that we have plotted to take us from the Children's Choir performance to the Sunday School Pot-luck and White Elephant Gift Exchange—stories into which the LORD is inviting us as His hands and feet.
Another Type of Disruption
The mission of Patrick Henry College is to train and equip leaders who will reflect God's glory in all areas of culture ranging from politics, strategic intelligence and journalism to education, publishing, economics and business—leaders who will understand the importance of having an authentic faith that informs all aspects of their lives, both public and private. These are students who will become the leaders charged with preserving both religious and Constitutional liberty for their generation and the ones to follow.
Events of the past few years have greatly accelerated the pace of change in our culture toward a secular paradigm that is increasingly intolerant of any voices of dissent—viewing both the speaker and the message as destabilizing to the "new society". Those who dare to speak against the new cultural orthodoxy are often isolated and branded as extremists.
The need for compelling, articulate voices to enter into the public conversation has never been greater. We need voices (and minds) that have been trained to look beneath surface arguments and cultural slogans and engage in real, substantive conversations that consider the issues from all sides. Those are the students we are training at Patrick Henry College. Students whose minds are being challenged by the highest levels of academic rigor and whose characters are being formed as they learn what it means to have a faith that informs all aspects of their lives.
Our Turn to Answer Again
As you consider all the many ministries and causes that you support with your year-end gifts would you consider helping us fund the education of these incredible young leaders? As most of you are aware, PHC accepts no government funding and is committed to operating without long-term debt. These are two important, distinctive principles that will allowed us to remain faithful to our mission by God's grace, long after other institutions have had to make compromises to retain the flow of government funding.
Currently, Tuition Room and Board covers approximately 60% of the annual costs of educating our students. Recognizing the significant investment that families make in college education for their children, we work diligently to keep our expenses low so that the maximum amount of every dollar can go into instructional programs. The dollars that we raise through our annual scholarship fund bridges the gap. That's where you and I come in.
Your investments are paying large dividends as our students are graduating to take their places in positions of influence both in the workplace and at the most prestigious law schools and graduate programs in America.
But for today, these future senators, Supreme Court Justices, novelists and Fortune 500 CEOs are taking the time to fully engage with the disruptive moment that comes with the first snowfall and make one of the most complicated snowmen that I've ever seen!
Thank you for your support! We couldn't do it without you!
Our prayer is that you and your family will have a blessed Christmas and that you will find time to quiet your soul and find refreshment from our LORD.
From where I sit,

Jack Haye
President
-----
Patrick Henry College exists to glorify God by challenging the status quo in higher education, lifting high both faith and reason within a rigorous academic environment; thereby preserving for posterity the ideals behind the "noble experiment in ordered liberty" that is the foundation of America.