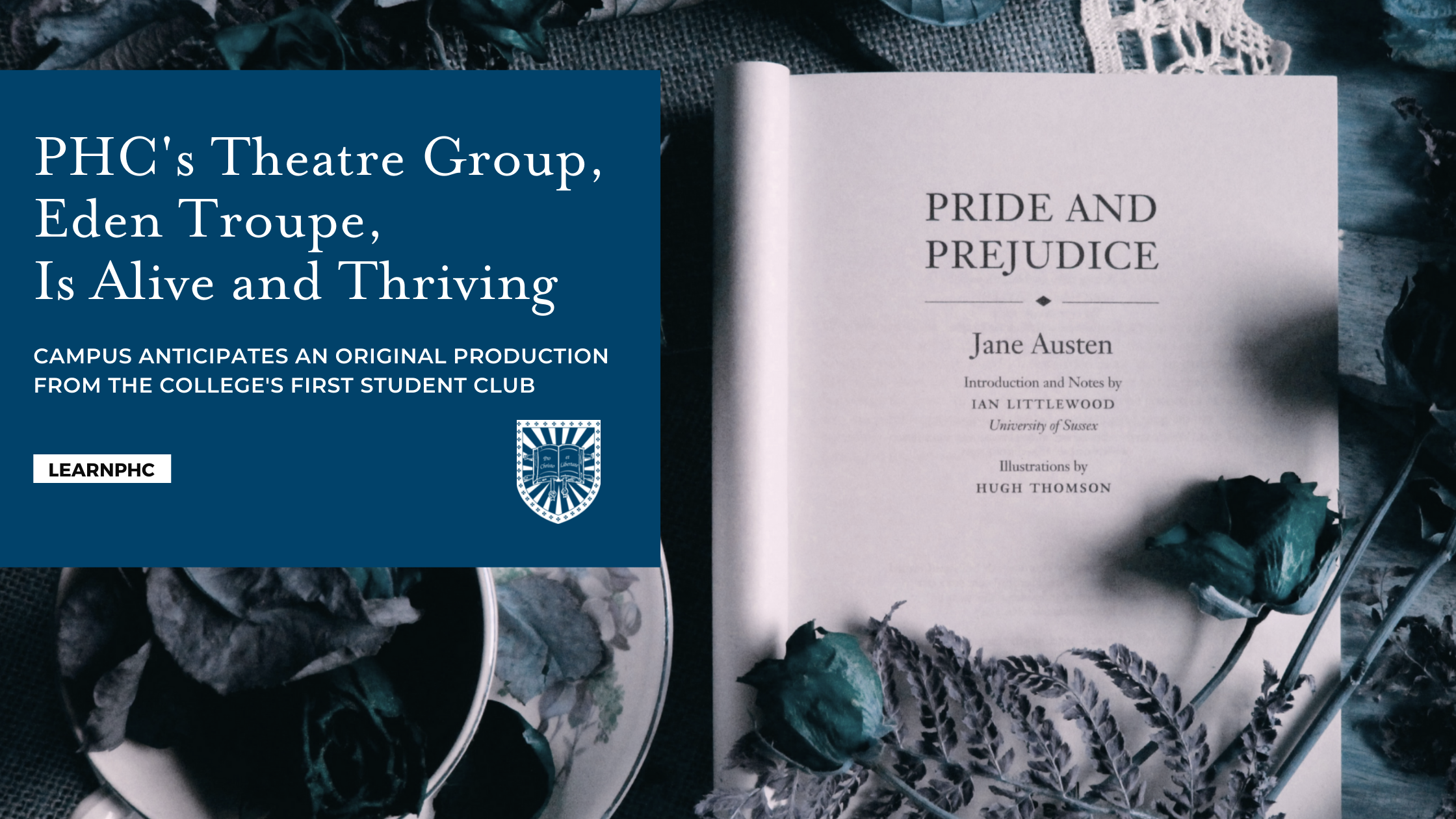 Junior Spencer Dalke, one of this year's Eden Troupe directors, walked onto the chapel stage. Behind him stood the chapel guild team ready to lead worship. Before him sat the student body and faculty, waiting to hear his announcement.
"It is a truth universally acknowledged that a campus in possession of a theatre group must be in want of a production of Pride and Prejudice," Dalke said. "The good news is, Eden Troupe is filling that need this semester, with PHC's own production of Pride and Prejudice, directed by myself and Anna Fox."
His audience immediately erupted into enthusiastic applause.
Students flooded into Town Hall for auditions that weekend. Junior Gentry Shannon and Freshman Steven Traphagen were chosen to play Elizabeth Bennet and Mr. Darcy.
Eden Troupe's influence expands beyond campus students, however. Multiple alumni are assisting with the production and Georgia Fisher, a distance learning student who lives nearby, will play Caroline Bingley. The production is planned for mid-April.
Junior Anna Fox, a Literature major and Pride and Prejudice co-director, wrote the script for the play. She found that most scripts available were "weirdly modernized," crude, or omitted iconic lines from the book. She wants her script to stay true to Austen's work and bring all its drama and humor to life.
"We want it to be an uproarious time," Fox said.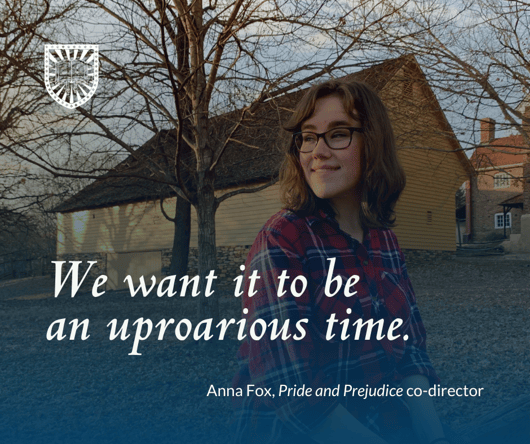 Founded in the early 2000s, Eden Troupe is PHC's student-run theatre organization. In the beginning, Eden Troupe produced mostly classical and Shakespearean plays like Antigone and As You Like It. The organization was largely successful with one play, Macbeth, which involved almost half the campus.
Starting in 2016, Eden Troupe decided to focus on smaller plays that emphasized compelling characters and had fewer props. Even amidst complications due to coronavirus regulations, the group has continued to thrive over the past two years. According to Eden Troupe's current president, Rachel Cochrane, the organization has performed a play or musical every semester with two exceptions: Spring 2020's The Ideal Husband due to coronavirus, and Fall 2021's Fiddler on the Roof due to licensing issues.
Eden Troupe's Fall 2019 production of Frankenstein: A New Musical was one of the most popular shows in the group's history, and Pride and Prejudice is already circulating much of the same excitement. Cochrane says, "I am confident that this semester will be a great springboard to launch Eden Troupe into growing even larger in the Fall."
While Eden Troupe plays are typically performed in PHC's Town Hall, coronavirus regulations have limited the space's capacity. This has caused the Pride and Prejudice team to search for an affordable, off-campus venue where they will be able to seat more people. They have pinpointed potential venues but await further funding to continue.
For the students watching, Eden Troupe's theatrical performances provide a chance to enjoy a good story and forget about the demands of school. As the plays are often shown near the end of the semester, when the chaos of finals is settling in, Eden Troupe provides an enjoyable few hours of relaxation.
For those involved, Eden Troupe is a unique experience for students of all majors to meet and build friendships with people they may not typically hang out with. The directors are frequently upperclassmen because of their experience and many actors are underclassmen because of their lighter course load. Many students who participate recall their time in Eden Troupe as some of the most enjoyable moments in college.
Theatre also fulfills part of the desire to create something one person alone could not accomplish, noted Ben Purnell, an alumnus who was heavily involved in PHC theatre. The production can't happen without the director, the production crew's work in the background, the actors in the spotlight, and countless other moving parts all working together.
"None of it works without the other people," Purnell said. "In a lot of ways, it's a humbling experience to know that you can do something bigger than yourself."
Information about upcoming productions and performances, including Pride and Prejudice, can be found on the Eden Troupe Facebook page.
-----
PHCers come from a wide background of interests and skills, but love for Christ and dedication to excellence unite us all. Learn more about what makes Patrick Henry College unique from any other institution below: