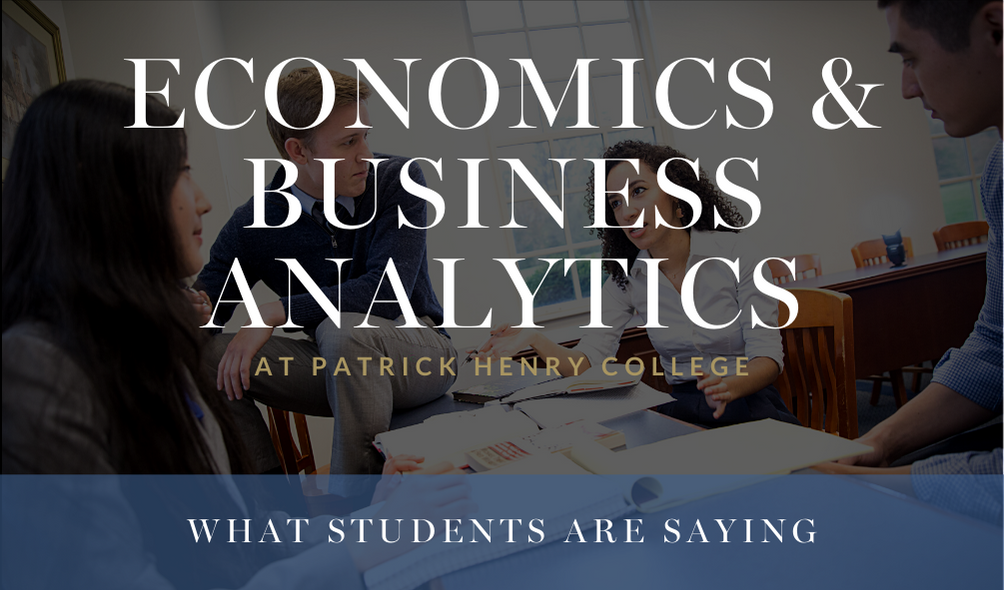 For many students, Patrick Henry College has been a continuation of their high school classical liberal arts education. Economics & Business Analytics (EBA) seniors Ashton Cho, Tyler Dunning, and James Dunning were such students. Having participated in high school debate, they were interested in attending a school that had a strong forensics program.
Samuel Rule, another senior, thought PHC was a good option because his best friend wanted to attend.
For senior Graham Rider, PHC's Teen Leadership Camps encouraged him to attend. Its reputation for preparing students for law school and godly environment made PHC his ideal college.
James, Tyler, and Graham decided to major in EBA because they wanted to challenge and strengthen their weakest academic link: math. James explained that Literature was one of his potential majors because of a lifelong love for reading. His decision to major in EBA wasn't because he thought Literature was impractical, but because he saw an opportunity to couple the practical, like calculus, with the abstract, like Western Literature.
The favorite class among these seniors was unanimously agreed to be Business Methods & Entrepreneurship, taught by the college's Executive Vice President Howard Schmidt.
"I took Business Methods my sophomore year," Sam said. "It was so good, and I had so much to learn."
Business Methods combines the firmness of practicing business with the grace of being a Christian. Tyler remembers one class where Schmidt discussed the necessity of firing employees. He learned it is better to let a person go if they are not suited for the job; otherwise, he will not pursue the job that best suits him.
"The mentorship you receive through class, teaches you much about living well," he said. "[Schmidt] took passages from Scripture and showed us how they applied to business."
Both the quality of the class and the students' love for Schmidt made the class enjoyable. "It was just fun," Cho remembered.
Many students also felt themselves reaping spiritual nourishment from the class as well. "At the core, it's [the favorite] because Professor Schmidt brings experience to the table...[he] makes class time really rich," James said. "He expanded my horizons about what's possible in business. He teaches that all things are possible through God. Those three hours feel like an hour and a half."
From their time at PHC, these seniors have made many fond memories. Last semester, Cho remembers starting a "competition club" where he and several other classmates in Business Methods competed for the top grades on their assignments.
Tyler said one of his favorite times at PHC was the 2022 spring break, when he and several other EBA students went to a ministry training program in Missouri. The fellowship of the group along with the ministry's mix of practicality and theology made this trip a favorite.
With the flexibility of the EBA major, being able to take more math, economics, or business-related classes, Rider feels he has received a good balance of every-thing he needs to start in business. Both the major and the broad core have made prepared him well.
Rule is thankful for his numerous role models: Professor Schmidt, Dr. Tracey McGrath, and Professor Nathan Russell. Rule feels he has been equipped for the world with their classes and has learned much from watching their faith.