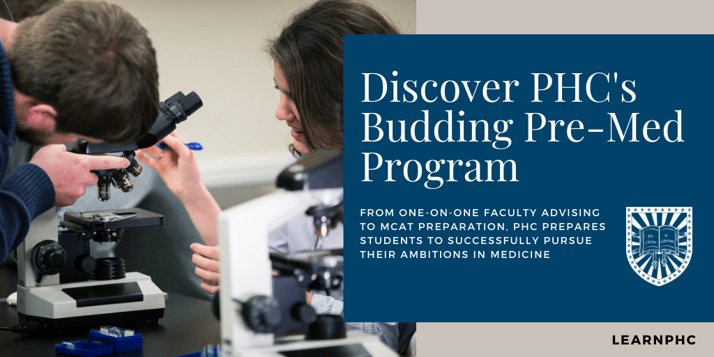 Patrick Henry College's Pre-Med Advising program continues to expand and attract more students following the program's first graduate in Spring 2021. The program integrates academic rigor in science and math with PHC's distinct Classical Liberal Arts core curriculum. The classes equip students for the Medical College Admissions Test (MCAT) and future medical school. Professors mentor students one-on-one to acquire the internships they need to follow their specific passions and ambitions.
"The mission [for Pre-Med], as with PHC's other efforts, is to shape the culture for Christ and for liberty," said Biology professor David Lee.
Junior Hesed Kim wants to do exactly this by working with children in healthcare. "The more I learn about healthcare, the more I am disappointed and see a need for reform," she said. "Medical work is of a primarily ethical nature, and without rationally ethical doctors, the sanctity of life is continually violated."
Freshman Isabelle Glass chose the Pre-Med program because of her love for science and fascination with the connection between science and her faith. "The sheer and utter complexity of the processes that govern the human body amazed me and showed me what a loving and caring God we have," Glass said.
Her plans are to continue into medical school or specialize in speech and language pathology. She believes PHC will equip her for this and grow her understanding of the world and humankind in other ways, particularly through classes in economics, philosophy, history, and literature.
Freshman Hannah Kim, who hopes to go to medical school after graduation, said the Pre-Med program prepares students going into medicine better than other schools because of how PHC cultivates discipline and soft skills. The discipline learned from PHC's academic rigor will help students get through the years of medical school and residency. The soft skills learned from interacting in PHC's community help students take care of and interact with people.
"PHC doesn't just teach the facts and the formulas—it shapes students into well-rounded, virtuous human beings," said Kim. "This is especially important for doctors who are called to care for the sick, comfort the bereaved, and sympathize with the broken."
-----
Thinking about pursuing medicine? Click below to learn more about PHC's Pre-Med Advising curriculum: