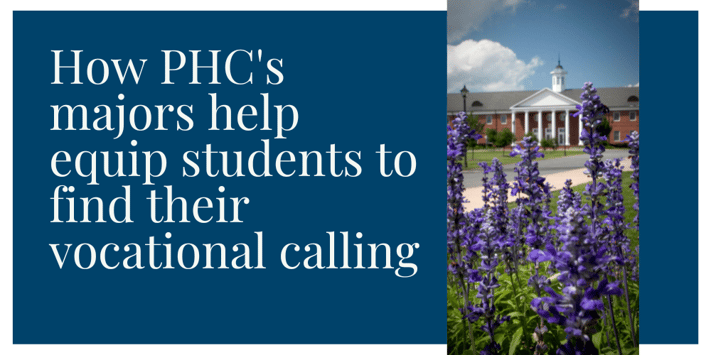 God has a completely unique vocational calling for your life—do you know what it is? One of the rich benefits of the classical liberal arts program at PHC is its ability to guide students in their discovery of this wonderful and specialized vocation—God's individuals calling for each individual student.
We know that each of us has been created for a specific purpose. But have you thought about how each one of us has been called to a unique vocation with which to serve and glorify Christ?
The main purpose of a true, Christian, classical liberal arts program (to borrow a phrase from Milton), is "to repair the ruins of our first parents by regaining to know God aright, and out of that knowledge to love Him, to imitate Him, to be like Him."
The true end, therefore, to true Christian education is not work, it's not a career, and it's not measurable "success." The end of Christian education is human flourishing and the imitation of Christ!
The term "vocation" includes relationships, friendships, jobs, and more, but the one on the minds of rising high school juniors and seniors and most college students is, "In what field am I going to major?"
Whether you think you know your field or not, deciding on a more specific area of study can feel like finding a needle in a haystack.
To give you a start, we've compiled a list of books for every major at PHC. We went to the professors and asked them to select the books they would suggest to those interested in their field of expertise.
This is not an exhaustive list, nor is it a list of books you must read to be successful. It is simply a list of books that might pique your interest and guide you along a certain path of your chosen major. Ready?

For any student interested the Classical Liberal Arts major, Dr. Douglas Favelo recommends Francis Schaeffer's How Should We Then Live? Widely recognized as the most important commentary on history, culture, and worldview in twentieth century, this book aids its readers to looks at the past through the lens of art. Schaeffer directs the reader through art history of Western Civilization and shows how the worldviews of the time shaped the art which it produced.

If you are interested in our Economics and Business Analytics major, Vice President Howard Schmidt recommends Me, Myself, and Bob. In this book, author Phil Vischer tells the story of how he created the successful children's show VeggieTales.™
For an enjoyable and light read about American business titans and the over-all development of their successful businesses, Professor Nathan Russell recommends Myth of the Robber Barons by Burt Folsom.
Thomas Sowell's Conflict of Visions is an excellent analysis of one aspect which fundamentally separates those who favor limited-government structure and those who favor paternalism. With its Christian perspective, Professor Russell thinks Sowell's book aids in understanding the paternalists and discussing government with fellow believers.

If you are interested in majoring in Government, Dr. Roberta Bayer recommends The Abolition of Man and That Hideous Strength by C.S. Lewis. These books introduce the idea of modern dystopias. For those wanting to explore American government (which Dr. Bayer encourages everyone to do), Alexis de Tocqueville's Democracy in America, Russell Kirk's Roots of American Order, and, of course, the Federalist Papers are good places to start. For modern takes on the cultural and political phenomena of today, Bayer recommends Reinhold Niebuhr's Christian Realism and Political Problems, Children of Light and Children of Darkness, and Rod Dreyer's Live Not by Lies. These books are easy to read without much understanding of political philosophy. If you are interested in older books on government, Bayer believes that it is important to read "Book 19" of Augustine's The City of God. Plato's Apology is a good discussion of principles at work.
PHC's Spring 2022 Faith & Reason guest speaker, Dr. Michael Ward, gave a lecture on The Abolition of Man, which you can watch here!

For those interested in the History Major, Dr. Favelo recommends Ronald Wells' History through the Eyes of Faith. While every PHC freshman will read this in Dr. Favelo's Western Civilization I and II, it is a remarkable read. Wells' book was the first to fill the lacuna in scholarship for history presented from a Christian worldview. This academically-rigorous examination of Western Civilization comes from an openly biblical perspective.
Want to test your knowledge of Western Civilization? Take this quiz!

For those interested in English (currently the Literature Major), Dr. Steven Hake recommends that you just read. Read the books you enjoy or what God has placed on your heart.
If you want a place to begin, Dr. Hake suggests Triumphs of Imagination by Leland Ryken. This book is a wonderful Christian introduction into literature. For a more in-depth and specifically-fictional interest, Rhetoric of Fiction by Wayne Booth is a wonderful read. For those who enjoy C.S. Lewis, The Discarded Image and The Allegory of Love are Lewis' own approach to literature.

Dr. Les Sillars recommends that students interested in journalism read a variety of books to broaden their horizons to what journalism can do.
Same Kind of Different As Me by Lynn Vincent offers a perspective that someone wouldn't normally understand in everyday life. Vincent describes the story of how two men from completely different lives come to an understanding and close friendship.
Another example is Unbroken by Laura Hillenbrand. The book tells the story of Olympic runner and WWII pilot Louis Zamperini who survived as a prisoner of war in Japan. "After I finished [the book]," said Sillars, "I thought to myself, 'if I ever write anything half as good, I will call myself a journalist and retire.'"
For sports fans, Moneyball by Michael Lewis is an example of some of the best journalistic writing in the world of sports. Best American Essays of the Century edited by Joyce Oates is an excellent way to understand American culture. Sillars recommends that any student who wants to become a journalist in this country needs to know the people or at least the names of the authors in this book.

If you are thinking about the Strategic Intelligence in National Security Program, Colonel Gordon Middleton recommends Nine Lives: My Time as the West's Top Spy Inside al-Qaeda by Aimen Dean (with Tim Lister and Paul Cruickshank). In his book, Dean narrates how he lived nine different lives during the jihadist wars in Bosnia and a manhunt ordered by al-Qaeda, each touching on the radical movements throughout the Middle East and in the UK. The book ends with Dean's thoughts on the movements he encountered there and what the world is now seeing.
For a take on modern political intrigues, The Permanent Coup: How Enemies Foreign and Domestic Targeted the American President by Lee Smith is an excellent choice. In his book, Smith makes complicated connections between the events of recent political history from the pandemic to Russiagate, all of which point to who he believes to be the mastermind behind it all.
For those interested in cyberwars, Col. Middleton recommends Sandworm: A New Era of Cyberwar and the Hunt for the Kremlin's Most Dangerous Hackers by Andy Greenberg. With enough technical jargon and a genius plot line and characters, this book describes the technical side behind Cyberwar.
Are you still in high school and interested in Strategic Intelligence? Click below!

For those considering a major in the Environmental Science and Stewardship program, Dr. David Lee, Assistant Professor of Biology, has some recommendations for those interested in creation science.
If you only ever read one book on creation science, Lee recommends reading The Quest by Dr. Todd Wood. This book explores the interrelations between science and faith through the perspective of a Christian biologist. "Dr. Wood encourages the reader to view creation as a quest, an adventure that involves exploration and growth," said Lee.
If you enjoy The Quest or want to read a second creation science book, Lee recommends The New Creationism by Paul Garner. In his book, Garner explains the scientific creation model, while focusing on astronomy, biology, and geology. Filled with evidence for a young earth, this is one of the most readable and up-to-date books filled with evidence for their beliefs. Lastly, Lee recommends A Different Shade of Green by Dr. Gordon Wilson. This book carefully lays out a biblical case for environmental care using the original mandate to steward creation in Genesis. Wilson touches on the themes of stewardship, dominion, conservation, and investment.
*Patrick Henry College does not officially endorse the book selections or the worldviews they represent. These selections were gathered by a member of the LearnPHC staff for educational purposes only.
______
Have you started your reading list?
Click below to find a list of books every PHC student completes through the Core:
* "Of Education" by John Milton