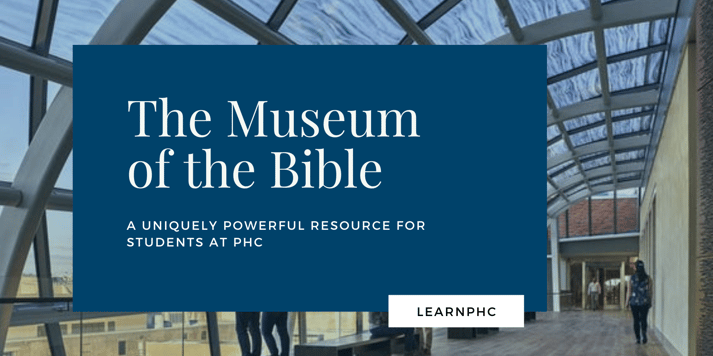 Patrick Henry College, situated only a fifty-minute drive outside of Washington, D.C., provides students with a wealth of activities and venues to explore. One of those, a relatively new addition to the city, also happens to be a ministry partner of PHC and a nation-wide attraction for Christians interested in learning more about the history of the Word of God.
It's the Museum of the Bible.
Established in the fall of 2017, the Museum of the Bible has provided millions of visitors to the nation's capital with a unique look into the richness of the Bible's past. It's an arsenal of original manuscripts, insightful and informative exhibits, and a powerful argument for the veracity of the scriptures. It's an experience that's sure to leave any visitor with a deeper and fuller appreciation of the legacy of the Bible—both as a historical document and as the Word of God.
Students at Patrick Henry College are uniquely equipped to take advantage of the Museum of the Bible and the resources it offers. Through classes like the Western Civilization, Principles of Biblical Reasoning, Philosophy, and Theology I & II, students at PHC spend a great deal of time in the core curriculum understanding and carefully examining the impact of the Bible on the western world.
Few beliefs have been as influential to the history of the globe as that of the Judeo-Christian faith. From being the first book off the printing press to providing Newton's inspiration in discovering gravity, the Bible has continuously driven the wheels of history. What started in a manger over two thousand years ago became an idea that would spread to the heights of the Roman empire, span through the dimly lit years in the Dark Ages, cross an ocean to Plymouth Rock, and provide the underlying ideas to concepts of freedom and equality.
The history of the Bible isn't just one that's important for understanding the Bible itself, but rather contextualizing a tremendous portion of Western history.
Few places offer so rich a learning experience as the Museum of the Bible when it comes to learning about the history of one of the world's most important documents. We highly recommend it should the opportunity present itself; we guarantee a visit will be well worth your time.
To discover that story or to learn more about the partnership between the Museum of the Bible and Patrick Henry College, click below!
------------