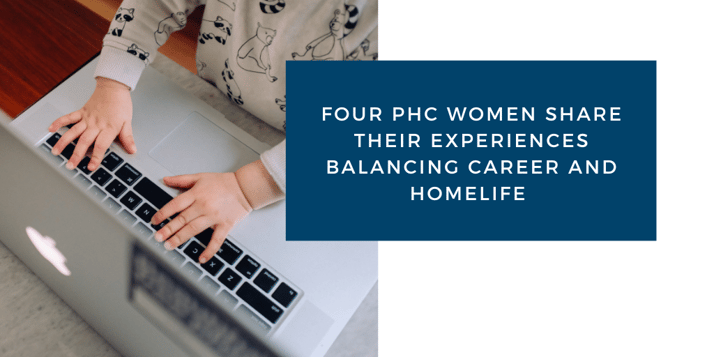 Over seventy students crowded into the Patrick Henry College Library Study Center on Wednesday, March 29, to hear four women from the PHC community share how they balanced their career and family life. This is the third in a series of five workshops hosted by Student Body President (SBP) Silas Landsverk and Student Body Vice President (SBVP) Marcia Washburn.
The workshop began with presentations from panelists Dr. Tracey McGrath, Dr. Roberta Bayer, Cathy Schmidt, and PHC alumna Asriel Greendyk. After a short break, SBVP Washburn moderated a Q&A session before the students broke out in discussion groups headed by members of the PHC community and the panelists themselves.
During her presentation, Dr. Tracey McGrath shared that she was fortunate early in her career to find a university that provided a children's center to support working mothers. McGrath herself had a child later in life, which meant she was able to make her mark and ultimately retain her position as she scaled back to raise her daughter. McGrath said that God provided for her family through her work in academia, even while she devoted more time to raising her daughter.
Cathy Schmidt, PHC Executive Vice President Howard Schmidt's wife, chose to leave her teaching career to be a stay-at-home wife and mother. She soon added homeschooling to her plate as she and her husband jointly educated their children. Schmidt pointed out that they were successful because they each gave 100 percent as opposed to the traditional fifty-fifty split.
Schmidt directed students to Hebrews 11:6 which says "And without faith it is impossible to please him, for whoever would draw near to God must believe that he exists and that he rewards those who seek him" (ESV). She encouraged them to diligently seek the path God has for them and the Lord will show up in mighty ways.
Dr. Roberta Bayer met her husband in graduate school. Like many young couples, they attempted to find a faculty position they could split so one of them could always be home with their children. When they were unsuccessful, Bayer, found that she was happy to stay home with her children. Despite her joy, she also felt isolated. She was the only stay-at-home mom on her street.
God soon provided her with a group of stay-at-home moms who became her community. Bayer was struck by how all of these moms had high levels of education from doctorates to law degrees, and yet chose to stay home and homeschool their children. For a time, Bayer continued to stay at home while homeschooling her children. God soon provided her with a part-time faculty job as an adjunct at George Mason.
Later, God worked in her life and led her to PHC. Even though she was hired as a full-time faculty, she was able to come on campus two days a week and the other two days from home. Bayer encouraged students that children are the most important priority in their lives, and that their careers should come second. Like the other panelists, Bayer found that God always provided for her needs.
The last panelist to speak was Asriel Greendyk. She encouraged students that work and life ought to be fluid. Greendyk worked for a government contractor following graduation through the birth of her second child. After an extended maternity leave for her third child, she transitioned to the business sector, where she currently works part-time, managing operations for a mid-sized family company (in addition to homeschooling her kids and staying involved in her community and philanthropic commitments!).
In her words, Greendyk's primary challenge was finding a job description that accurately reflected all the various parts of her calling: working mother, homemaker, daughter, wife, school teacher, and friend. During her talk, she outlined a six-step process to help create a vocational thesis for her life. Most importantly, Greendyk encouraged students to hold their plans with open hands so God can work through them.