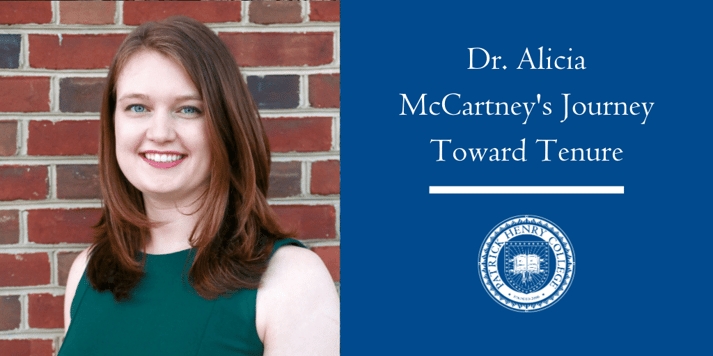 PHC alumna and current Visiting Professor of Classical Liberal Arts Dr. Alicia McCartney (Journalism '14) will begin a full-time, tenure-track job as Assistant Professor of English at Cedarville University this August. "[Tenure] is something that you don't automatically get; it something that is earned over time," she said.
McCartney will write articles and teach classes for Cedarville for six years before being evaluated for tenure. Then she will be eligible for an associate professor position, and in another 10-15 years she will be eligible for promotion to full professor. "The idea is that you have the freedom to pursue the truth wherever it takes you, and you aren't necessarily bound to a particular political ideology," McCartney said.
Cultivating a Love for Truth
Beginning in the fall, she will teach Western Literature at Cedarville University. The course will be "kind of similar to Western Literature at Patrick Henry, except I have the freedom to design it," McCartney said.
PHC divides Western Literature into two semesters, the first focusing on classical literature and the second primarily on modern literature. Cedarville's course is one semester long, providing McCartney the opportunity to draw inspiration from PHC's layout while making the class her own.
"The most important thing that I want to teach students is the skill of careful reading and love of truth," McCartney said. She believes that Christians should study Western Literature "so we can understand culture, value the goods things, and understand what's gone wrong. "Being at a Christian University allows us to pose those questions and have students really wrestle through them, and I think that is really valuable."
Part of analyzing and learning to understand literature is understanding stories, not just in print but in all aspects of life. "By becoming better readers," McCartney said. "My hope is that ultimately it will lead students to better interpret their lives and be able to really read the Word of God as well."
In addition to Western Literature, McCartney will teach Composition. After teaching Rhetoric last semester at PHC, she hopes to teach students similar skills of persuasion and high-quality writing. By taking her class, she wants them "to gain the skills to speak the truth in love, to touch people and really be able to know where they're coming from."
Life After Graduation
After graduation, McCartney went on to spend five years at Baylor University, where she eventually earned her Ph.D. in English studies. "Journalism prepared me really well for my graduate studies at Baylor University."
"I was able to have somewhat of a literature minor at PHC," she said as she was able to take literature classes from Dr. Gene Veith and Dr. Cory Grewell in addition to her journalism courses.
"The journalism courses taught me how to write. They taught me how to write concisely and clearly, how to organize my thoughts, and especially how to write very quickly," McCartney said.
She found that she loved aspects of both journalism and literature. "They are different disciplines but my interest in both of them sort of sprang from the same root I suppose," she said. She has always loved words, reading, and writing, so she wanted to find a career where she could do both.
Love for Teaching
"I wanted to pursue a job that would give me the opportunity to interact with people on a daily basis," she said, so she decided to start teaching. "The things that I find rewarding about journalism, I also find rewarding about teaching. But it let me pursue my love for reading and writing."
While at PHC, she was inspired to teach after serving as a TA for Dr. Sillars's Research and Writing class senior year. "That was just a really rewarding experience." Seeing how he taught the class and "also get my feet wet and decide 'hey I think that this is something I want to do as well.'"
Common Vision
McCartney knew she needed to find a school that had similar values to hers. That was when she found Cedarville University. She loved the intersection of spiritual discipline and academics that she found at PHC, and she found a similar vision at Cedarville.
After her on-campus interview in January, McCartney was thrilled to meet everyone in the English Language and Modern languages departments. "I was just really, really impressed with some fantastic colleagues and I'm beyond excited to be working with a really fabulous group of people. I think it will be a fantastic experience."
______
Click below to read more about the Journalism Major at PHC!