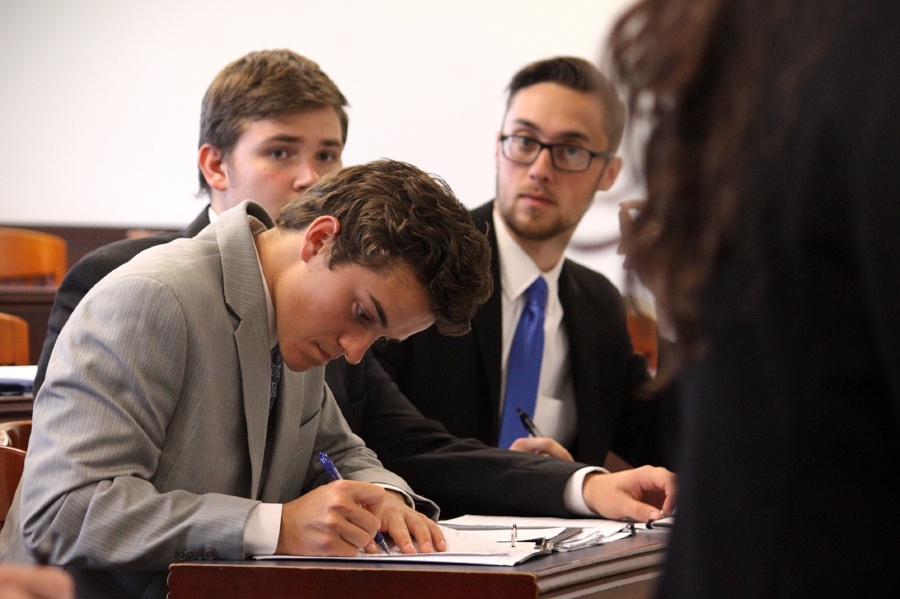 The verdict is in: mock trial is awesome! From crazy witnesses to sharp attorneys, mock trial is bound to change the way you view a courtroom. The program is creative, intense, rewarding, spontaneous, educational, and entertaining. Still not sure if you would enjoy it? Here are just a few reasons why it's worth a try!
1. You'll develop your critical thinking skills
In preparing for your trial, you'll have to read through several affidavits and depositions. This will help your reading comprehension (which comes in handy for standardized tests!) and information retention. Additionally, you'll learn how to respond to arguments and how to create a convincing and compelling case while thinking on your feet.


2. You can put your acting skills to good use
Each side during a trial has three attorneys and three witnesses—and you have the opportunity to explore your witness' character to the extreme! You can come up with a fun personality, an interesting accent, backstory, or costume. Even if you end up in the role of an attorney, you will still incorporate a bit of acting as you are supposed to take over the courtroom with your demeanor and voice on cross-examination.


3. Work on your public speaking
Mock Trial gives you an opportunity to work on your speaking skills. Whether you're an attorney or a witness, you'll have to be able to speak coherently and articulately so that your judge can understand you.


4. You'll learn about the legal system
If you're at all interested in being a lawyer, mock trial will help you get a head start! You'll not only learn about the court room setting, but you'll also learn about depositions and affidavits, court precedent and state laws, and how a trial works. Even if you don't want to become a lawyer, knowing how our legal system works is a good asset for life (and for looking smart in general).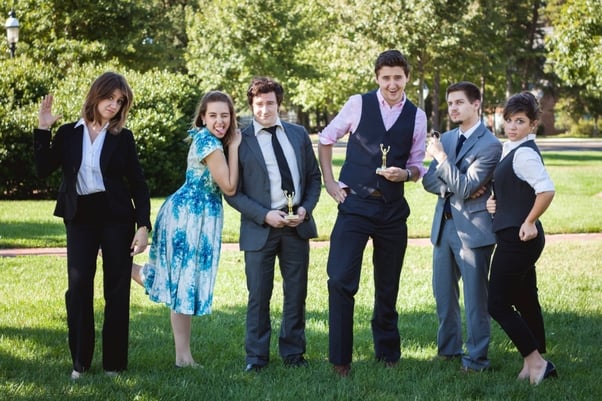 5. Work together as a team
Mock trial is never a one man show. Even if a team has a lot of individual talent, they won't excel without working together. Creating, learning, stressing, and arguing together will not only sharpen your skills but it will build a mock trial family.


6. It's crazy fun!
Mock trial frequently lends itself to inside jokes and exciting moments. You quickly form new friendships with your team members and work together to craft a great story. Whether you win or lose the ballot, you'll feel amazing watching all your hard work pay off when your story comes together.


7. It will change your life
After participating in mock trial, you will wonder how you ever lived without your team, the case, the new-gained skills, and the adrenaline rush you get when you enter the courtroom or answer a spontaneous question from the judge. You won't reach mock trial perfection overnight, but the hours you spend developing your case will not return void. The skills you gain will empower you for life (not to mention your ability to critique famous court case movies).
---------------------------------------------------
Want to give it a try? Come to our two-week Mock Trial camp! You'll have American Mock Trial Association board member, Dr. Frank Guliuzza, helping you learn how to put together a great case.
"Even though I didn't want to be a lawyer when I grew up, participating in the mock trial teen camp was literally the best two weeks of my entire summer. It created a love for the program and propelled me to compete in mock trial throughout college."— A 2011 Camper
Read our camp description for more information, and sign up today!
Mock Trial Camp is held July 16 - 29.