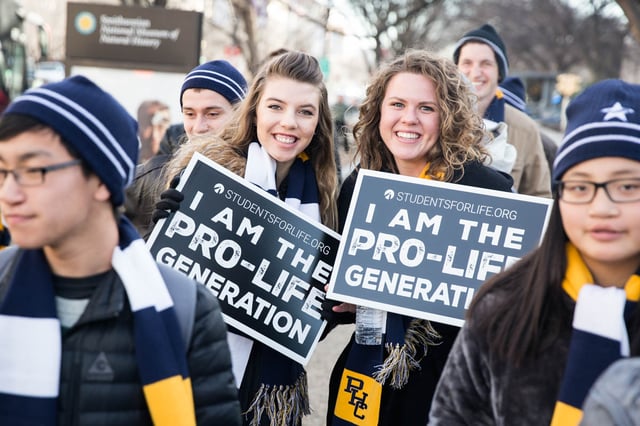 Before the start of the March for Life on Friday, Jan. 19, President Donald Trump and Vice President Mike Pence celebrated the pro-life movement with addresses from the Rose Garden in the White House, which 40 PHC students were invited to attend. In addition to this privilege, the White House allowed five students to stand on stage with President Trump during his address.
In his speech, President Trump addressed the theme of the 45th annual March for Life: Love Saves Lives. "Under my administration, we will always defend the very first right in the Declaration of Independence, and that is the right to life," President Trump said.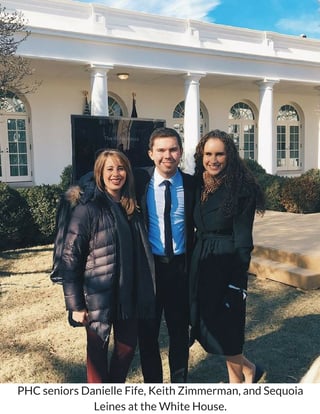 Ian Frith, the chairman of the College Republicans, played a part in getting PHC to the March for Life and led the 40 students attending the Rose Garden Address.
"Just the fact that PHC received an invitation to attend the Rose Garden address alone was an incredible honor and a real blessing, but being offered to have five students on stage while President Trump gave his address was a total God thing," Frith said.
Dr. Michael Haynes, the director of the APP program at PHC, first received the call in the summer of 2017 with the proposition for PHC to lead the March for Life. Upon receiving an invitation earlier this January from the White House inviting 40 students to attend the address, Dr. Haynes contacted student Michael Patton, who, alongside student Manus Churchill, assisted Dr. Haynes in running the event.
"Dr. Haynes contacted me from his personal cell phone, which he has never done before, and said, 'Michael, call me now.'" Patton said. "It was against everything that I had ever been instructed. He always jokingly says things like, 'Upon penalty of death, do not call me on my cell phone,' so I knew it was important." Patton called Dr. Haynes back and learned of the opportunity, and began to help contact the 40 students that would attend the Rose Garden Address.
"Overall, PHC leading the March for Life and attending the Rose Garden address was a success," Dr. Haynes said.
"Patton and Churchill did an absolutely outstanding job of organizing and working tirelessly and even sacrificially to help me make this happen, and God definitely showed up. We were praying for 300 people to attend with PHC, and the turnout was about 600. God is good, and allowed us to do even more than what was anticipated."
---
To read more from PHC's student publication, The Herald, click the button below!