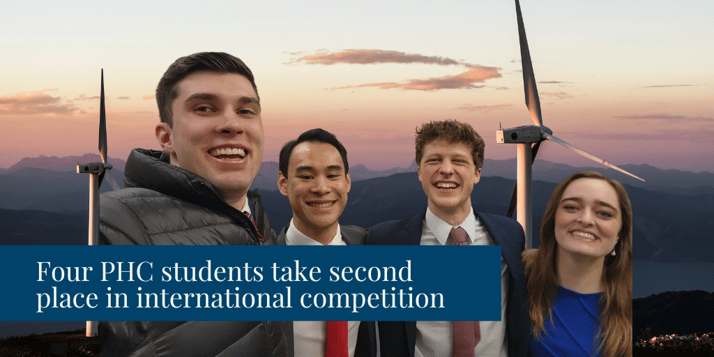 Patrick Henry College (PHC) students take second place in a global case competition sponsored by The University of Copenhagen's Business School in Denmark!
Four PHC students—Everett Chew, Reagan Van Belle, Inge Washburn, and Josiah Kitching—earned second place in the final round of GLOBAL 2023, an international case competition where undergraduate and graduate students have 24 hours to come up with a solution to a real-life business case that is judged by a panel of industry-leading professionals. These four students comprise the Executive Team that currently runs the student-led Patrick Henry Investment Group (PHIG), a key component of the Economic & Business Analytics Program at PHC.
According to their web page, "GLOBAL is an international case competition and CBS Case Competition's response to an increasingly digitized world;" it is the largest open case competition in the world, with more than 3,600 students from 90 nationalities participating.
This year's case company featured Ørsted, a leading renewable energy company within offshore wind, onshore wind, solar PV, and Power-to-X. "As a global leader within green energy, our vision is to create a world that runs entirely on green energy—and we've been ranked as one of the world's most sustainable energy companies several years in a row," Ørsted said.
On February 13, our PHC team had 24 hours to solve a real-world problem from a real-world business and to present their solutions to a panel of judges made up of senior executives from multiple prestigious companies including Ørsted, a $20 billion company.
You can watch the CBS Case GLOBAL final round here.
"I knew it was an energy company, but I knew nothing about the industry," Everett Chew said. "On Saturday, I had to become a mini subject matter expert in renewable energy in one day."
Our PHC team was among nine teams selected to advance to the semi-finals where Chew, Van Belle, Washburn, and Kitching presented at 4:30am local time on February 17. Shortly after, at 7:00am local time, they learned that they were one of three teams advancing to the final round!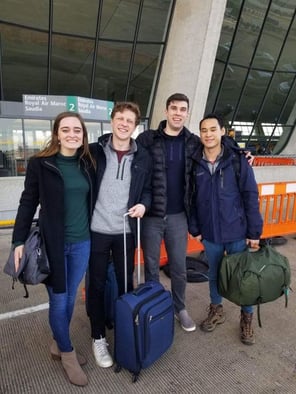 GLOBAL 2023 Finals was held in Copenhagen, Denmark at the Copenhagen Business School on February 24, where the top three teams presented in person to a panel of industry-leading professionals, showcasing their presentation techniques and critical thinking and case-solving skills. Each presentation was broadcasted live.
President Jack W. Haye, a former high-level corporate banker and Executive Pastor at First Baptist Church of McKinney, worked with both Executive Vice President Howard Schmidt, who has over 35 years of experience running both the domestic and international business industry, and Timothy Schmidt—former Ranger, Captain, and West Point Graduate—to coach each member in their presentation and critical thinking skills.
"There is no other school in the world where executives are giving hours of one-on-one coaching to their students like this," Chew said.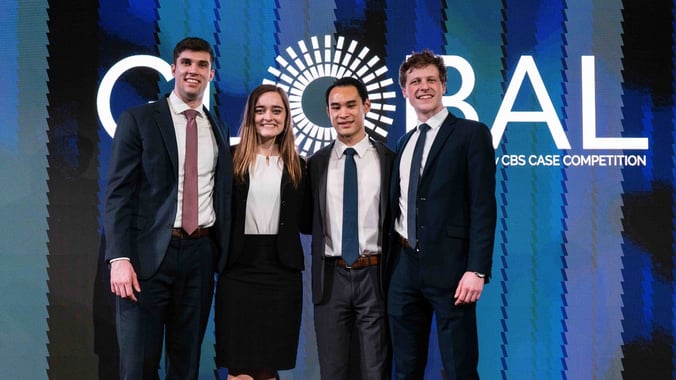 [L to R: Josiah Kitching, Inge Washburn, Everett Chew, Reagan Van Belle]