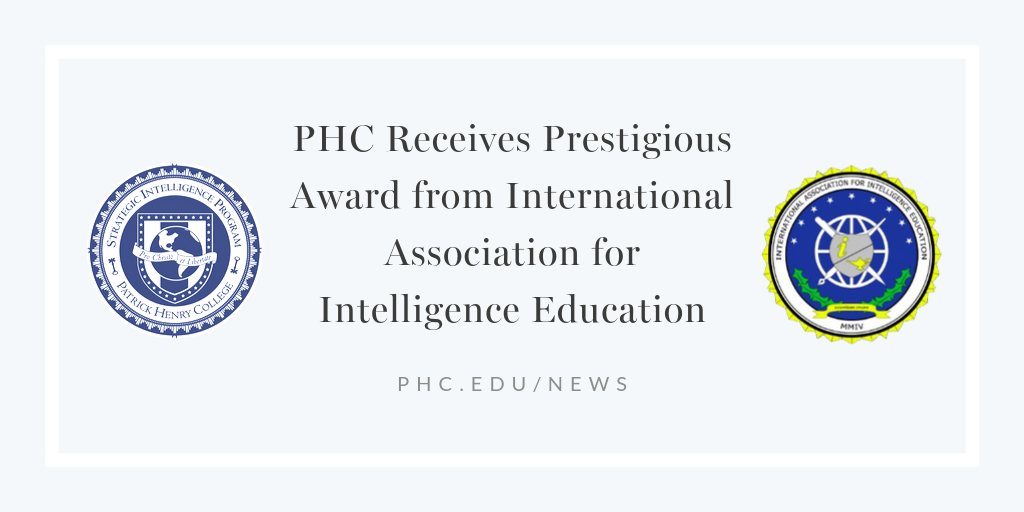 Patrick Henry College's Strategic Intelligence in National Security program has been awarded the International Association for Intelligence Education (IAFIE) certification this week.
IAFIE is the only professional association for intelligence education in the U.S., and Patrick Henry College is one of only two full academic major programs that has received this IAFIE certification to date. The other is Embry-Riddle Aeronautical University, with two campuses in Arizona and Florida, and approximately 6,000 undergraduate students.
Director of the Strategic Intelligence Program Dr. Gordon Middleton noted, "[We are] the only Christian school with this IAFIE certification."
"This has been on our SI strategic plan for some time and I am very glad this rigorous process has come to a successful conclusion." He said, "I owe a big 'thanks' to Professor Jock Binnie for his able assistance in putting the extensive package together that finally achieved this milestone for our program."
IAFIE, from "various intelligence disciplines including National Security, law enforcement and competitive intelligence, recognized the need for a professional association that would span their diverse disciplines and provide a catalyst and resources for their development and that of Intelligence Studies."
Patrick Henry College is deeply grateful to both IAFIE as well as the Strategic Intelligence in National Security program leadership for making this award a reality.

-----
Learn more about Patrick Henry College's world-class Strategic Intelligence in National Security program.
Patrick Henry College exists to glorify God by challenging the status quo in higher education, lifting high both faith and reason within a rigorous academic environment; thereby preserving for posterity the ideals behind the "noble experiment in ordered liberty" that is the foundation of America.