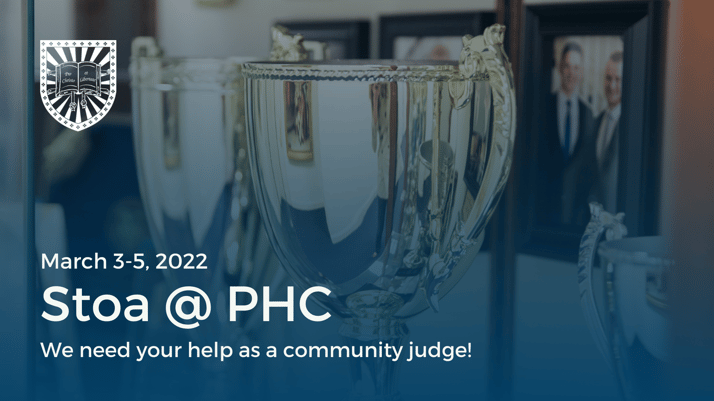 Stoa's mission is "to train homeschool students to speak boldly and change the world for Christ." Stoa and PHC share the conviction that God calls Christians to serve in all areas of social and public life, including law and government. By training leaders to reason and communicate effectively—and supporting ministries like Stoa—PHC is helping Christian students to excel in their sphere of influence and thereby convey the truth and glory of God.

PHC will be hosting Christian students and their families from the Southeastern United States in Stoa's regional tournament called "The PHC Challenge." The Tournament begins tomorrow and ends on Saturday; March 3–5, 2022.
Come and join us! If you are in the area, sign up to judge and be blessed watching the demonstrations of talent and hard work by these young leaders. Your participation is necessary to the success of this event. Consider being a part of their training!
"No experience is necessary! Yes, you are qualified!" Stoa intentionally seek judges from different backgrounds and walks of life so that the competitors (ages 12-18) get well-rounded feedback from multiple perspectives.
Judging one round requires a commitment of approximately an hour or so. Your experience will include a virtual judge orientation available a few days before the tournament, watching and listening to the students assigned to your room, filling out the paper ballots to rank the competitors, and offer any feedback you have on their performance.
Please visit the judge registration page here to see the schedule of rounds available and choose one or more that work for you. Feel free to direct your questions about registration to Jenn Wright.
The tournament includes these categories:
Team Policy Debate
Lincoln Douglas Debate
Parliamentary Debate
Speech
Thank you for taking the time to consider this invitation to encourage and equip this next generation of leaders. I am confident that you will be blessed and inspired by what you experience!
For the curious
What is Stoa (from their page here): Stoa is building a world class community of speakers, debaters, and family members who are committed to Speaking Boldly and Changing the World for Christ in their homes, churches, communities, at colleges and universities, and in the workplace.
Stoa offers approximately 100 tournaments nationwide during each tournament season.
Tournaments are held from Hawaii to Washington DC, from Seattle to Tampa!
Stoa tournaments are all open to families from around the country.
Where did the name Stoa come from? (from their page here): In ancient Athens, people would gather at public buildings to listen to politicians, philosophers, and poets. Greece's Mediterranean climate rendered the interiors of these buildings unsuitable for crowds much of the year. Architects therefore designed the Stoa, the long covered porches fronting or surrounding buildings, often with a double colonnade, that became the symbolic feature of classical Greek architecture. Here, in a shaded but well-lit and well-ventilated space, people could gather to conduct business or test new or competing ideas. It was in such a setting where the Apostle Paul delivered his famous speech in Acts 17 when he challenged the beliefs of the Epicureans and Stoics.