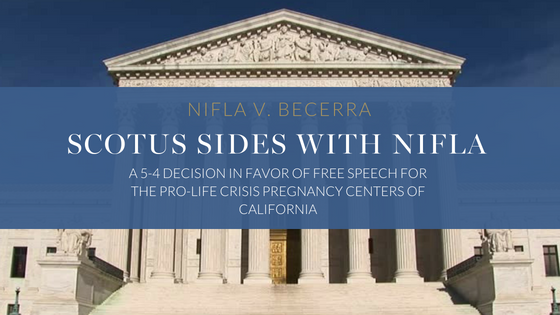 SCOTUS ruled in favor of free speech for Californian pro-life crisis pregnancy centers in the monumental case NIFLA v. Becerra today. The decision was 5-4. Michael Farris, chancellor of Patrick Henry College and president of Alliance Defending Freedom, represented the National Institute of Family and Life at the Supreme Court hearing in March. Read the court's opinion here.
[Related Post: Michael Farris Argues Monumental Pro-Life Case Before SCOTUS]
Case History
In October 2015, California passed the "FACT Act," a law targeting pro-life crisis pregnancy centers, requiring them to "point the way to an abortion and imposing onerous advertising rules on unlicensed centers that do not provide ultrasound or any other medical services," said Farris in his opening remarks at the SCOTUS hearing.
The law compelled licensed facilities to inform clients that California would provide "low-cost access" to family planning services, abortions, and more. "This law...is directed at disfavored speakers with disfavored viewpoints," said Farris.
NIFLA, a non-profit organization, provides legal services, education, and training to over 1,400 life-affirming member centers across the United States. Each center provides licensed medical services including ultrasounds and pregnancy testing, as well as personal services such as counseling, clothing, diapers, and more. Over 100 of these centers are located in California and were subjected to the FACT Act.
The Decision
SCOTUS' ruling "reversed and remanded" the law. California pro-life crisis pregnancy facilities are no longer required to provide their clients with information regarding abortion services or family planning assistance.
NIFLA v. Becerra was Farris' second time arguing before the Supreme Court.
Click here to read the transcript or listen to the oral arguments here.
-----
To support Patrick Henry College, click the button below.