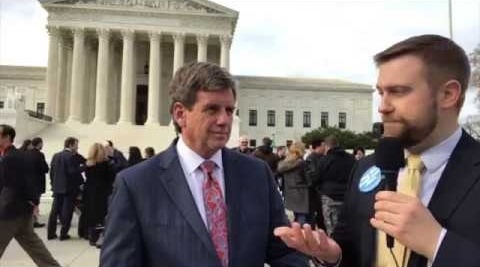 Michael Farris, chancellor emeritus of Patrick Henry College and president of Alliance Defending Freedom, argued before the Supreme Court of the United States on March 20, 2018, as the petitioner in a monumental pro-life case.
The case, National Institute of Family and Life Advocates (NIFLA) v. Xavier Becerra, will decide whether or not California's Reproductive Freedom, Accountability, Comprehensive Care, and Transparency (FACT) Act violates free speech and the exercise of First Amendment rights.
"California took aim at pro-life pregnancy centers by compelling licensed centers to point the way to an abortion and imposing onerous advertising rules on unlicensed centers that do not provide ultrasounds or any other medical services," said Mr. Farris in his opening remarks. "The state then provided exemptions for all other medical providers who serve pregnant women. This law targets a particular topic of discussion, employs compelled speech, and is directed at disfavored speakers with disfavored viewpoints."
NIFLA, a non-profit organization, provides legal services, education, and training to over 1,400 life-affirming member centers across the United States.
Each center provides licensed medical services including ultrasounds and pregnancy testing, as well as personal services such as counseling, clothing, diapers, and more. Over 100 of these centers are located in California and subject to the FACT Act.
Xavier Becerra is California's Attorney General.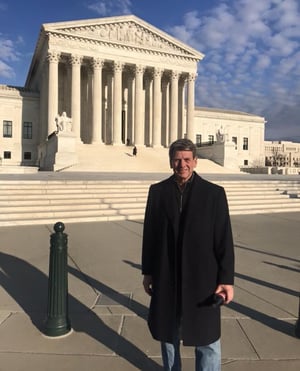 Mr. Farris appeared before SCOTUS once before in 1985 arguing for a religious freedom case, Witters v. Washington Department of Services For the Blind.
In preparation for his recent appearance, Farris delivered his arguments before a panel of PHC alumni with extensive experience in the legal field. Read the full story here. Farris requested the alumni ask him questions of the utmost difficulty, akin to those Supreme Court Justices might also ask.
Patrick Henry College is a proud advocate of the pro-life movement in accordance with its dedication to a biblical worldview.
In January, the College recently lead the March For Life, one of Washington's largest annual marches. Over 500 students, faculty, staff, alumni, and extended community members joined the march in peaceful protest of abortion.
Read the Spring 2017 issue of Founders Magazine, with the featured article, "What Does It Mean To Be Pro-Life?"
-----------
Learn more about Patrick Henry College's moot court program, where students learn what it takes to argue in front of the Supreme Court: